Eight more states legalized marijuana on Nov. 8, either recreationally or medicinally. After the vote, the total number of states with some form of legal marijuana in the United States is up to 28 – over half of the country.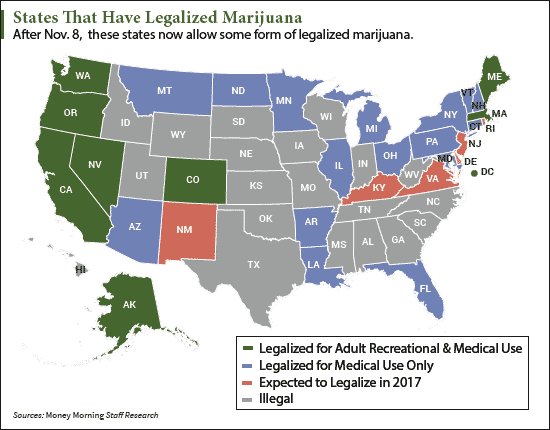 Seven more states (and counting) are expected to legalize marijuana in 2017.
With more and more states jumping on the marijuana bandwagon, the industry is expected to soar over the next few years.
"2016 is likely to go down as a watershed year for the marijuana industry," said our Director of Tech & Venture Capital Research Michael A. Robinson. "The marijuana-growing market alone could easily top $100 billion in five years."
There is no doubt that the industry is flourishing. But with the good comes the bad…
One in five Americans now live in a state that has some form of legal marijuana.
One in eight Americans, according to a recent Gallup poll, report using marijuana.
The problem is, if you admit to using marijuana – recreationally or medicinally – when purchasing a firearm, you will be denied. Even if your state has legalized the drug.
That means 13% of Americans will lose their 2nd Amendment rights, even if marijuana is legal in their state.
How the Gun Law Works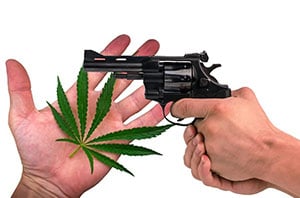 As of now, regardless of state law, cannabis still remains a Schedule I drug under federal law – which puts it in the same category as heroin, LSD, and ecstasy.
Trending Now: This Fortune 1000 Firm Has Bet Big on Pot – and so Should You
This becomes an issue when would-be gun buyers in marijuana-friendly states fill out the required ATF (Alcohol, Tobacco, and Firearms) form before purchase. The form requires applicants to identify if they use marijuana. If they check "yes," even if they are medical cardholders, the seller of the gun cannot authorize the sale.
"There are no exceptions in federal law for marijuana purportedly used for medicinal purposes, even if such use is sanctioned by State law," according to ATF guidance.
Furthermore, if the seller of the gun has reason to believe the would-be gun owner is a marijuana user, ATF rules state that it is the dealer's responsibility to halt the sale, according to The Wall Street Journal on Nov. 14.
"This idea that you somehow waive your 2nd Amendment rights if you smoke marijuana is wrong," said Keith Stroup, as reported by The Wall Street Journal on Nov. 14. "In particular, if you are using marijuana as a medicine, the idea that you have to choose between your health and the 2nd Amendment is offensive." Stroup is the founder of NORML, a nonprofit lobbying organization that supports the legalization of marijuana.
With more states expected to legalize in the next few years, concern over this conflict is growing…
The Bottom Line: Even with over half of the country legalizing marijuana use, federal law still prohibits anyone who uses the drug from purchasing a gun or ammunition.
Marijuana users who value their 2nd Amendment rights also worry about the potential impact of a Trump presidency. President-elect Trump said in 2015 that he supports medical marijuana use, but would put Chris Christie in charge as attorney general, ultimately leaving it up to him.
With Christie out of the picture as of Nov. 16, the situation remains unclear.
Up Next: Regardless of the conflict between marijuana legalization and 2nd Amendment rights, 28 states have legalized marijuana either recreationally or for medical use. This new industry is ripe with opportunities for investors — and you can still get in ahead of the curve. In fact, you could have the chance to walk away with over $100,000 by year's end. We're offering our completely free "Roadmap to Marijuana Millions" for a limited time to our readers. Click here to claim your free copy…
Follow Money Morning on Twitter @moneymorning or Facebook  for more marijuana industry news.
You may also like…
Why the Top Medical Marijuana Stocks Are Climbing
The 5 Greatest Economic Benefits from Marijuana Sales We've Seen So Far