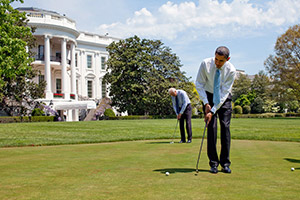 Yesterday U.S. President Barack Obama issued a record wave of clemencies to several individuals. The news broke as he was on a Hawaiian golf course (he's on Christmas vacation).
The latest round of President Obama pardons granted clemency to a total of 231 individuals, the largest single act of absolution in one day during his entire eight-year tenure.
Before we expand on who got pardoned and who didn't, it's important to note that the term "pardon" -- when used by the media -- does not necessarily mean a "blanket pardon," or full exoneration.
Presidential pardons also include rescinded - or voided - fines, as well as sentence commutations. When a sentence is commuted, it is effectively "cut off," or stopped, in its course.
Yesterday's POTUS pardons included...
153 sentence commutations, bringing the total number of commutations while President Obama has been in office to 1,176 (including 395 life sentences). The president has now commuted more sentences than any president since Lyndon B. Johnson, who commuted 226 sentences during his time in the Oval Office.
78 blanket pardons, effectively doubling POTUS' previous number for a total of 148.
The president's pardons Monday brought his grand clemency total to a whopping 1,324 while in office - more than the four preceding presidents combined and the most of any president since Harry S. Truman.
For his part, Truman commuted or rescinded the convictions of 2,044 people during his term.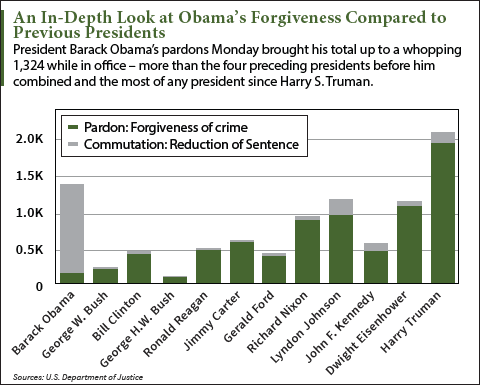 White House Counsel Neil Eggleston spoke to the media in a press conference after President Obama issued his absolutions Monday. There, he admitted that he expects the president to grant even more clemencies in the coming months and added that these actions exemplify President Obama's belief that America is a nation of second chances.
"While each clemency recipient's story is unique," Eggleston said, "the common thread of rehabilitation underlies all of them."
With that in mind, here's a quick look at a few of these unique "second chances" granted by President Obama in the last eight years...
Over the Years, President Obama Pardons Included Posthumous Clemency and More
[mmpazkzone name="in-story" network="9794" site="307044" id="137008" type="4"]
The president commuted the sentence of Clarence Aaron in 2013. Aaron, of Mobile, Ala., was sentenced to three life sentences in 1993 without parole for his role on the periphery of a drug deal when he was a college student. Aaron was a model inmate, reported ProPublica in December 2013, who fought for his own clemency with the American Civil Liberties Union over the course of two decades.
President Obama blanket pardoned civil rights activist Sala Udin on Monday. Udin was not in prison at the time, but in 1972, he was arrested for possession of an unloaded firearm and served seven months. Still, the shadow of his conviction hung over him for the 44 years that followed his released. With only 32 days left in the president's term, Udin had lost all hope of being pardoned, The Washington Post reported yesterday. It had been four years since he filed a formal request for clemency. Finally, that clemency came. Udin's particular presidential pardon grants him absolution of his crime, as if it had never occurred.
In 2010, the president issued a posthumous blanket pardon for Timothy Brian Cole of Lubbock, Texas, for a rape he did not commit. DNA evidence later exonerated him from the crime. Cole's pardon, while welcomed by family and friends who had fought on his behalf, came too late for Cole himself. He died of an asthma attack in 1999 while still in prison at the age of 39.
In 2015, President Obama commuted the sentence of Jerry Johnson of Los Angeles. Johnson was sentenced in 2003 to 60 months for marijuana cultivation, and then sentenced again a year later to 20 years for conspiracy to manufacture, distribute, and possess with intent to distribute more than 1,000 pot plants. Upon release, Johnson took a dishwashing job in LA before landing a deal in Atlanta with Cirque du Soleil. Johnson told The Washington Post in 2015 that joining the circus was perfect for him post-prison because everyone on the team there seemed like "misfits" as well.
Up Next
Some have argued that President Obama - who once was infamously considered the stingiest president when it came to presidential pardons - has overstepped his bounds now with his clemency push over the past year.
In May, Sen. Tom Cotton (R-AK) said the current administration is being far too lenient on dangerous convicted drug traffickers with its myriad pardons and commutations.
But around that same time, the president shirked criticism from another front as well, this time for being too strict.
Because that's when the POTUS issued an executive order that turned the entire financial industry on its head, with several GOP congressmen crying, "over-reach, over-reach!"
Here's a look at the president's controversial "fiduciary rule" that's expected to affect retirees' nest eggs as soon as January 2017...
Follow Money Morning on Twitter @moneymorning or on Facebook.
Related Articles: