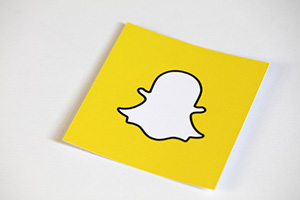 The Snap Inc. valuation is already lofty at $25 billion, and it could be heading even higher thanks to a brand new acquisition. At the end of December 2016, Snapchat purchased Israeli-based augmented reality (AR) company Cimagine Media for $30 to $40 million, according to Fortune.
How will this increase Snapchat's 2017 valuation?
Snapchat's valuation has grown alongside the company's revenue. The social media company is expected to generate between $936 million and $1 billion in 2017. That's up from $59 million in 2015. And with Cimagine's impressive AR technology to generate even more sales, the valuation could climb as high as $40 billion.
Here's a closer look at the acquisition, and what it means for the Snap Inc. valuation…
Why Snapchat Bought Cimagine Media
According to CNBC, Cimagine Media creates software that allows users to see what furniture will look like in a business or a home.
One of the companies' biggest clients is Coca-Cola Co. (NYSE: KO). The beverage company relies on selling vending machines, fridges, signs, and stands verbally with the aid of photographs.
But now, sales representatives can reduce the time needed to plan and place equipment from three days to one day with Cimagine. Sales representatives reportedly experienced a 20% boost in sales of coolers and equipment.
According to Cimagine's website, sales representatives also had a 92% success rate of making a sale when using the technology to engage a customer.
But how will Snapchat use this technology if it's just a social media app?
On Sep. 23, 2016, Snapchat released "Snapchat Spectacles." Spectacles are sunglasses that allow Snapchat users to take 10-second "first-person" videos and upload them to their accounts.
Must Read: This tiny $5 company just passed each of the seven benchmarks in this secret stock-picking method. Learn how to get in before its revenue surges an estimated 4,709%. Read more…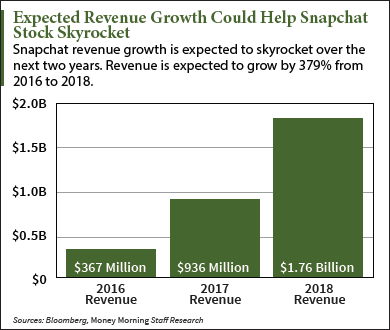 These sunglasses are limited in their abilities now. But because of the acquisition of Cimagine and its advanced technology, Snapchat could eventually create AR games like Pokemon Go.
Also, Snapchat is working with companies like Walt Disney Co. (NYSE: DIS) to create shows. Snapchat could eventually use the AR technology to allow Snapchat users to create live shows with AR elements.
This has created a lot of hype around the Snapchat IPO, as the Snap Inc. valuation continues to climb. At the end of May 2016, Snapchat was valued at $18 billion. With a $25 billion valuation today, that means the valuation has climbed 38% in roughly seven months.
But hype alone doesn't make Snapchat stock a good investment.
Here's what you need to know before investing in Snapchat stock…
Should I Buy Snapchat Stock?
Bloomberg projects Snapchat could generate close to $2 billion in revenue by 2018. But, there are no guarantees that will happen.
The social media space is competitive, and Facebook Inc. (Nasdaq: FB) is starting to replicate many of the features that have made Snapchat popular.
And because Facebook has a much larger user base — 1.18 billion daily active users compared to Snapchat's 150 million — Facebook is still the most appealing social media site for advertisers.
If Snapchat appears to fit your long-term investment strategies, Money Moring Director of Tech & Venture Capital Research Michael A. Robinson has a way to play the Snapchat IPO.
"I generally tell retail investors to avoid buying an IPO at the open because the insiders have already made all the money available at the debut," Robinson told me.
"My exception to this rule is to put in a limit order that is fairly tight from the offering price. Otherwise the risk is you buy at the top and then go upside down. That's a big risk to carry with a new issue that hasn't hit the lock up date," Robinson said on Oct. 25.
Because this could be one of the biggest IPOs in 2017, we know investors still have a lot of questions. That's why we made this guide for our readers that covers everything you need to know about the Snapchat IPO.
Follow Money Morning on Facebook and Twitter.