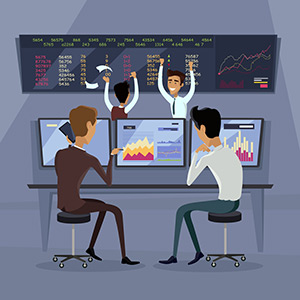 Dow 20k happened this morning just a few moments after the opening bell.
This market milestone sent analysts, media sites, and investors into a celebratory frenzy.
The implications of breaching the DJIA 20k threshold are simple enough to understand: It means expectations for the U.S. economy are improving. Plus it means many investors have made money in 2017.
But there's an arguably more important market milestone on the horizon. One that could, and perhaps should, overshadow Dow Jones 20k – and one that's being ignored with today's 20k hoopla.
Forget Dow 20k – the S&P 500 Is About to Hit 2,300
You see, the Dow isn't the best measure of how American businesses are performing overall. That 20,000 figure is only based on the share prices and performances of 30 of the largest companies in the U.S.
"The S&P 500 represents nearly 17 times that number," Kevin Barr, head of investment management at brokerage SEI, told U.S. News this morning.
Want to make money? Here's how to make over $100,000 starting with a small amount of money… rolling stocks over and over again. Click here for this proven investing method…
Indeed, the S&P 500 – given its namesake – is comprised of 500 of the largest publicly traded companies in the United States, encompassing the following 10 wide-ranging sectors:
Energy
Telecom Services
Financial
Industrials
Materials
Utilities
Information Technology
Consumer Discretionary (goods and services considered non-essential by consumers)
Consumer Staples (essential products: food, beverages, and household items)
Healthcare
Right now, the S&P 500 is on the verge of hitting its own milestone…
2,300.
As of 10:00 a.m. this morning, the S&P 500 sat at 2,292. Yesterday the index was at 2,291. So it's slowly but surely making its way upward.
As far as the index's long-term percentage increase is concerned, since Nov. 8, it's spiked a full 7%…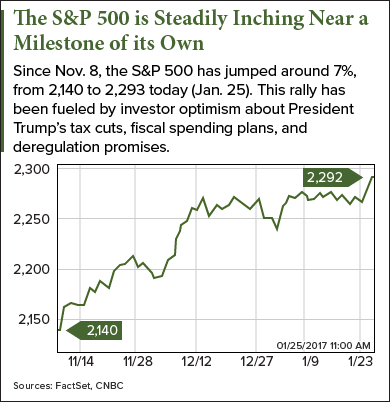 The reason why the S&P 500's milestone is considered by some analysts, including Barr, and many companies to be of greater significance than Dow 20k is because the index gives firms more weight in its calculation based on their float – i.e., the value of shares available to be invested in.
The Dow, on the other hand, is a price-weighted index, which means that stocks with higher prices have more influence on the index's value.
And while the Dow index's value is currently about $5.6 trillion – nothing to sneeze at – the S&P 500 has a market value of nearly four times that amount: $19.5 trillion.
Up Next
Money Morning Global Credit Strategist Michael Lewitt has never been one to follow the consensus view. He is known for calling out those who make off-the-mark calls.
He is also known for making bold calls himself.
And he just offered a full market forecast for 2017, which includes a surprisingly dire projection for the S&P 500…
Follow us on Twitter @moneymorning or on Facebook.
Related Articles: