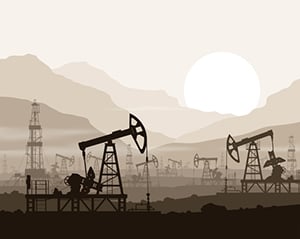 Today, we're giving you the three top oil stocks to buy so you can take advantage of rising oil prices.
Crude oil prices have already jumped 48% from their 2016 low, and Money Morning Global Energy Strategist Dr. Kent Moors predicts oil prices could rise another 20% in the first half of 2017.
And the best way to profit from a boost in oil prices is to buy oil stocks.
But the best oil stocks aren't necessarily the big names that come to mind when you think of oil. In fact, Big Oil companies like Exxon and Chevron are some of the worst oil stocks you can own.
Trying to profit from higher oil prices by trading futures contracts is also risky and confusing. Oil ETFs are also bloated with Big Oil companies and management fees, which drag down your profits.
Instead, owning one of the top oil stocks could bring you huge gains.
One of our best oil stocks to buy exploded for 50% gains over the last year. And analysts interviewed by Yahoo Finance say it could soar another 30% this year.
And that's just one oil company stock on our list. Before we show you the best oil stocks to buy now, here's why investing in oil in 2017 is going to make you money...
Why Investing in Oil Stocks in 2017 Is a Smart Move
There are three reasons why 2017 is going to be a great year for oil stocks.
First, OPEC is cutting oil production, and it's working.
In November, OPEC struck an agreement with 11 other countries to slash oil production for the first time since 2008. The deal calls for a reduction of 1.8 million barrels per day in 2017.
Sign up for SMS so you never miss special events, exclusive offers, and weekly bonus trades.
Since the deal was made on Nov. 30, the price of oil jumped 20%. And since the production cuts officially started in January, OPEC has reported strong compliance with the deal.
As long as the OPEC deal stays in place, Moors says the agreement will establish a price floor above $50 a barrel and push prices even higher. That means oil prices will stay consistently higher than their 2016 low of $35.59.
Don't Miss: Our Bold 2017 Oil Price Forecast
Second, global energy demand is rising.
The EIA's latest report predicts energy demand will grow by 25% through 2040. Much of this increased demand is due to continued development and population growth in both China and India.
While there are some alternative sources of energy in the world today, oil will still be the dominant source of energy to meet this rising demand. Exxon Mobil's latest Energy Outlook report predicts oil will remain the world's top energy source through 2040.
Third, the Trump administration is proving to be one of the most oil-friendly administrations in recent times. Not only has President Trump vowed to eliminate restrictions on domestic oil and gas production, but he has also named officials to his cabinet that have close ties to the industry.
In just his first month in office, President Trump signed an executive order allowing the completion of the Dakota Access and Keystone XL pipelines. And one of the first bills he signed into law eliminated a Dodd-Frank rule requiring oil companies to disclose foreign payments.
Just Released: These "Second Salary" Plays Could Make You and Your Grandkids Rich
President Trump has also named Rex Tillerson, the former CEO of Exxon Mobil, as U.S. secretary of state. That puts a former oil company executive in a senior administration position.
But his biggest move for oil stocks might be placing Scott Pruitt as head of the EPA. Pruitt is famous for his lawsuits against the EPA on behalf of the oil and gas industry, and he will likely weaken environmental regulations against oil companies as an administrator.
And now that 2017 is shaping up to be a great year for oil stocks, here are our picks of the best oil stocks to buy right now...
The Top Oil Stocks to Buy Now No. 3: JP Morgan Alerian MLP ETN
Moors says higher oil prices will bring this "classic" oil stock play "roaring back in a big way."
Master limited partnerships (MLPs) used to be the darlings of oil investors because of their unique tax structure, high dividends, and money-making business models.
You see, MLPs are typically "gatekeeper" companies. As midstream oil companies, they build and manage pipelines and storage facilities for oil and gas. That means they are much less risky than oil production companies and less reliant on price fluctuations like oil refining companies. But low oil prices have hurt their profitability since 2014.
That's all about to change.
Now that oil prices are back on the rise, these gatekeepers will be seeing a lot more demand and a lot more profits.
And Moors says one of the best ways to take advantage of this play is through the JP Morgan Aleiran MLP ETN (NYSE Arca: AMJ).
AMJ will give you broad exposure to MLPs, and it's already gained 30% over the last year, so you know as oil prices continue to rise, the MLP market will, too.
And our top two oil stocks are even better plays.
Analysts predict our top oil stock could see revenue growth grow up to 57% in 2017 alone...