The Dow has soared over 200% since this bull market run began in 2009, and the "Trump rally" pushed stock prices even higher in the near term, rising over 14% since Election Day. This sort of stock price growth is making investors wonder, "Are we in a stock market bubble?"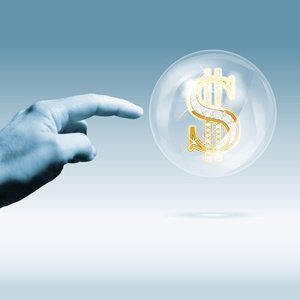 Investors are right to ask the question. This is currently the second-longest bull market in American history, and stocks are still shattering records. Since Election Day, the Dow sailed through record highs of 20,000 and 21,000 points in its fastest jump between 1,000-point levels ever. Earlier this week (May 19) both the S&P 500 and Nasdaq hit their all-time highs.
But it's not just record highs that are signs of a stock market bubble. There's evidence that stocks are inflated well above their traditional values, and that could mean a market crash in 2017...
Are We in a Stock Market Bubble?
When stock prices are inflated far above their value, a "bubble" can emerge. Investors fear bubbles because they eventually burst. That's what could cause the next stock market crash.
It's important to note that we are not in a classic stock market bubble yet. However, stocks are overvalued right now, and investors need to be prepared for a correction...
Don't Miss: An incredibly rare gold anomaly is shaping up in the markets as we speak -- one that has occurred ONLY twice in the past 20 years. And it's about to happen again. Details here...
First, stocks sailing to new record highs would be a great thing if it was due to economic growth. But the economy hasn't grown fast enough to justify stocks rising like this.
Since 2009, the United States' GDP has only risen 29%. Corporate profits are up 100% since 2009, but that's less than half of the share price growth of the Dow during the same period, which was over 200%.
Second, we can measure stock market valuations, and stocks are well above their average values.
One of the best measurements of stock market value is the Shiller P/E ratio. Right now, the ratio shows stocks are valued 73.8% above their historical averages. At a ratio of 29.2, stocks are currently valued even higher than before the 2008 stock market crash, when the ratio rose up to 26.7 in December 2007.
While stocks hitting all-time highs might be helping investors rake in profits, stocks rising to overvalued levels isn't a good thing. It's likely overvalued stocks could lead to a market correction, but panicked investors could start selling at a rapid pace.
Remember, temporary corrections are healthy for the markets. But when some investors panic, it can create larger selloffs and sometimes even trigger a stock market crash...
Why Overvalued Stocks Can Cause a Stock Market Crash
When stocks are overinflated, they could correct back closer to their fundamental value, but it also means a destabilizing event could trigger a 2017 stock market crash.
The stock market crash of 1929 is a prime example of this. At that point, the Dow Jones soared 300% over the seven years before Black Tuesday struck the nation.
Novice investors were mesmerized by a thriving economy and healthy stock prices, so they took risks buying stocks under the false impression that they simply couldn't fall. Throughout the 1920s, more than $120 billion (adjusted for inflation) was borrowed by these amateur investors to buy stocks. This risky strategy helped boost stock prices even more, contributing to the mistaken belief they would always rise.
But in September 1929, stock prices stopped rising. Because investors had taken such risks, they were compelled to sell immediately in hopes of saving any money they could. The situation was so dire that many stocks became completely worthless and couldn't be sold regardless of how low the price was. The stock market bubble had popped.
The stock market crash of 1929 would destroy 86% of the Dow's overall value before prices began to rise again. Unfortunately for investors today, low interest rates have similarly helped push stock prices to overvalued heights.
Trending: The Four Best Silver Investments This Year (and Why You Need Them in Your Portfolio Today)
Since the financial crisis of 2008, the Federal Reserve has slashed interest rates from over 5% before the crash to 0.25% by the end of 2008. That was meant to stimulate economic growth by making it easy to borrow money.
Instead, corporations borrowed money to buy back shares of their own stocks. Since 2008, public companies have borrowed $1.9 trillion while buying over $2 trillion worth of their own stock. Like past stock market bubbles, that's pushed stocks to artificially high prices.
And the Fed is now committed to raising interest rates, raising rates three times in the last two years, with two more rate hikes on the way this year. Ending the era of cheap borrowing means companies won't be able to boost their share prices as easily. It also means the stock market bubble could pop again.
But investors shouldn't panic. Prepared investors can protect their money during a stock market crash, and they can even make some profitable plays. Here's our guide on protecting your money during a stock market crash...
Our Stock Market Crash Protection Plan