The Trump-South Korea meeting this week won't result in any concrete plan between the two world leaders for countering North Korea's future threats.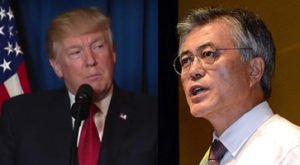 The cause of this anticipated Washington/Seoul standstill: starkly different policy approaches held by both world leaders - South Korea's new commander in chief President Moon Jae-in and President Donald Trump.
Here's a look at those specific differences... and how a stalemate between Washington and Seoul will leave Pyongyang unrestrained in its ongoing weapons-testing...
Moon Supports Diplomacy, and So Did Trump... Last Year
Let's start by examining South Korean President Moon Jae-in's recent rise to power.
Moon was elected on May 9 after running a slapdash campaign to replace South Korea's disgraced, impeached President Park Geun-hye. He campaigned on taking a diplomatic approach to North Korea.
Specifically, Moon touted reviving a limited version of the Sunshine Policy of Engagement - a policy that South Korea employed briefly in the early 2000s. The Sunshine Policy aimed to build trust between North and South Korea through investments, exchanges, and aid programs.
This policy, however, ended in October 2006 when South Korea suspended aid shipments to Pyongyang, seemingly unprovoked.
Must See: This small $6 U.S. defense firm with a new top-secret technology could help the Pentagon stop a Chinese sneak attack dead in its tracks. Read more...
Moon's rhetorical adoption of the policy, however, stands in direct contrast to his two presidential predecessors - both conservatives who sought alignment with the United States and a hardline policy toward the North.
President Trump seemed to support diplomatic discussions with North Korea as well... at first.
In January 2016, for example, he said he'd like to talk to North Korean dictator Kim Jong Un. After this statement, the North Korean state media outlet DPRK Today endorsed Trump's presidential run, calling him a "wise politician" on May 31.
But Trump's sentiment on Pyongyang has since shifted...
For instance, on April 4, 2017 - a day after the U.S. dropped the "Mother of all Bombs" (MOAB) on Afghanistan - Trump told reporters that he didn't know if his decision to drop the MOAB was a message to North Korea, but "it doesn't make any difference if it [is] or not" because North Korea "is a problem" and "the problem will be taken care of," Vanity Fair reported that day.
This hardline pro-military approach of Trump's will come face-to-face with Moon's pro-diplomatic stance on Thursday - assuredly causing friction right away.
Plus, there's ongoing beef between Washington and Seoul over the U.S.' April deployment of its Terminal High Altitude Defense (THAAD) missile defense system in South Korea.
Sign up for SMS so you never miss special events, exclusive offers, and weekly bonus trades.
This bone of contention has actually seen U.S.-South Korea tensions increase in frequency lately...
U.S.-South Korea Feuds Have Been on the Rise
THAAD's deployment to South Korea was a settled matter in late 2016. Washington and Seoul both agreed that it would help defend the South against North Korea's weapons tests and protect the 28,000 American military personnel stationed in the area.
But soon after Moon took office in May, he ordered the full deployment of THAAD be delayed until an environmental impact study was completed.
Washington immediately responded to this request by claiming that such a delay would upset the operational efficiency of THAAD while weakening the integrity of the U.S.-South Korea alliance.
Reports surfaced that Trump himself was furious over Moon's decision to suspend the full deployment of the launchers. And on April 28, the U.S. president shot back at South Korea... not just on the THAAD delay, but on trade as well.
Trump told Reuters that the free trade deal between Seoul and Washington was "horrible." South Korea, he argued, should also pay $1 billion for THAAD.
So Moon kicked his own anti-THAAD rhetoric up a notch.
The South Korean president admitted to Reuters on Thursday, June 22, that part of his reason for suspending the system actually had to do with its failure to meet the "original agreement" between South Korea and the U.S. in 2016.
"Only one missile battery, consisting of six missile launchers, was due to be deployed in 2017, with five others due to be imported and brought online thereafter," Reuters reported Moon saying. "Instead, two were brought online a week before last month's election, and four were 'covertly' brought into the country as the previous government realized that they were facing defeat."
This statement marks the latest of Moon's U.S. criticisms ahead of this Thursday's meeting.
Yet it's this very summit, according to Money Morning Executive Editor Bill Patalon - whose expertise on the Asian arms race spans over three decades - that must result in both presidents making some sort of compromise or concession.
Otherwise, certain devastation will follow...
Trump and Moon Need Each Other
"These two leaders need to find a common ground," Bill said this morning (June 27). "They need to realize that each is the other's key ally in the push to blunt North Korea's bid to become a full-fledged nuclear power."
Here's what Bill suggested that compromise might look like...
"Moon has to understand that a continued deployment of THAAD must take precedence over politically motivated 'environmental' claims," he said.
"And the U.S. must engage South Korea in a discussion that results in a mutually agreed-upon long-term strategy for blunting the Pyongyang nuke threat."
It all boils down to civil discussions between the allies this Thursday.
And if the Trump-South Korea meeting can't produce any such discussion, North Korea will surely continue to develop its nuclear armament...
Meanwhile, This U.S. "Defense Shield" Company Is Ripe for More Profits
As North Korea's nuclear threat becomes increasingly real, the United States and South Korea alike will put more money into cutting-edge defense systems and complex weaponry.
As Bill told his Private Briefing subscribers last year, the Asian arms race is a technological race where stealth aircraft, aerial and seagoing drones, detection systems, and missile-interceptor know-how will just keep advancing.
Central to any defensive plans in the region will be Lockheed Martin Corp. (NYSE: LMT), developer not only of the THAAD system, but of nearly every defense system and weapons system the U.S. military employs.
Lockheed stock recently hit a 53-week high on June 20 at $284.98.
And since Bill first recommended LMT in March 2016, its share price has gone up 26%.
Take a look at more of Bill's recommendations, complete with his astute North Korea analyses, in his subscription service, Private Briefing. You can find it here...
Follow Money Morning on Twitter @moneymorning, Facebook, and LinkedIn.
Related Articles: