Solar is the fastest-growing energy sector in the world, and the best solar energy stocks to buy in 2017 will help investors profit from the industry's enormous growth.
Electricity produced from solar energy in the United States is set to rise over 500% by 2040, as solar energy is finally reaching grid parity with traditional fuels. And today, we're showing you the best solar stock to buy right now…
One of the reasons investors turn to renewable energy stocks is that energy is always in demand. The U.S. Energy Information Administration (EIA) estimates that total energy demand around the world will increase 25% by 2040. And solar energy has distinct advantages over fossil fuels like coal and natural gas.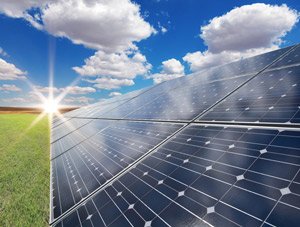 You see, these sources have always been cheaper than renewable energy, but as their supplies dwindle – and alternative energy technology improves – fossil fuels are losing their edge. And that's not even counting the infinite supply of solar energy or its environmental benefits over carbon-emitting fuels like coal and gas.
Here's why solar energy is on the cusp of triple-digit growth and how you can profit from it by owning one of the best solar stocks in 2017…
Right Now Is the Best Time to Invest in Solar Energy Stocks
Currently, renewable energy only makes up about 12% of total U.S. energy production, but that's about to change.
In fact, the EIA predicts that renewable energy production will double by 2025. That's because the costs of renewable energy – especially solar power – are falling.
This Could Make Big Oil Obsolete: One gallon of this new fuel could produce enough energy to power a car for 42,325 miles. It's being hailed by many experts as energy's "Holy Grail." Read more…
Solar energy costs are now 1/150th of their levels in the 1970s. Not only that, but prices are still dropping. Last year, solar energy costs fell another 10%.
Money Morning Global Energy Strategist Dr. Kent Moors says the falling cost of solar power has finally let it reach grid parity with fossil fuels. In at least 20 states – including some of the most populous, like California and New York – generating electricity from solar power costs the same as natural gas or coal.
Solar's falling cost and grid parity are the reasons why the EIA expects solar-generated electricity to rise more than 60% as early as 2018, and the EIA forecasts that electricity produced from solar energy could grow a whopping 500% by 2040.
And solar energy's potential growth is even higher outside of the United States.
Bloomberg reports that solar capacity in China rose nearly 80% last year alone. It now possesses capacity of 78 gigawatts, over five times U.S. levels. China represents 40% of worldwide growth in overall production of energy from renewable sources.
Top Story: Why 2017 Is the Year for Investing in Renewables
On top of that, China is already the world's largest producer of renewable energy, and China's renewable energy sector could see production skyrocket 700% by 2035, according to Wood Mackenzie.
But China's leadership is even more ambitious. The country's current five-year plan sets forth a goal of tripling capacity for solar power every single year through 2020, at which point a new five-year plan will be put into place.
This means right now is the best time to dive into solar energy investing to profit from the industry's remarkable growth prospects. But only the best solar stocks are worth owning. Speculating on solar penny stocks, for example, is simply too risky right now.
Smart investors are looking to invest in solar energy companies with the proven ability to cut costs, the scale to meet the massive demand, and the connections across the globe.
Moors' has just the stock, and it's one of the best solar stocks you can buy right now…
Our Top Pick from the Best Solar Energy Stocks to Buy in 2017