China has totally silenced its ASEAN (Association of Southeast Asian Nations) opponents in the South China Sea - except for one…
Vietnam.
The developing nation has emerged as the lone, vocal challenger to Beijing's claims that the entire South China Sea - through which more than $3 trillion worth of cargo passes every year – belongs to the Red Dragon.
But there's a specific reason for Vietnam's continued, outspoken defiance against China.
You see, the former U.S. enemy recently received unexpected support for its cause from three new friends in particularly high places.
There's an explanation for why Vietnam's peers are suddenly silent about the South Pacific, as well.
Here's what we mean…
Nations in the South China Sea "Knuckle" Under Chinese Bully Tactics
"Most of the other, bigger members in the South China Sea dispute  – the Philippines, Malaysia, Indonesia, and Singapore – have already 'knuckled' under Beijing's bullying," says Money Morning's Executive Editor Bill Patalon, who's been covering developments in the contested waters since 2013 – two full years before the mainstream media picked up on the rising tensions there.
Indeed, these countries have abandoned their causes – about which they had once been just as adamant as Vietnam – for varying reasons in recent months...
Malaysia, for example, is rife with ongoing government corruption allegations at the moment. Violence broke out in Kuala Lampur on Monday (Aug. 14) over the voluminous differences between the country's current ruling party and its increasingly violent opposition. That very ruling party considers China a major benefactor – especially since China is Malaysia's largest trading partner. So it may have given up the fight in the South China Sea out of fear of losing China's economic support.
Then there is the Philippines…
After pushing back against Chinese intimidation over the Spratly Islands for years, the Philippines has done a complete reversal under the one-year-old government of President Rodrigo Duterte. The new leader could very well be swapping the country's silence in exchange for economic carrots from Beijing.
Even Taiwan - arguably the most democratic ASEAN nation involved in the South China Sea conflict – has stopped publically rebuking China's sovereignty claims. Taiwan has three decades of democratic rule under its belt - an ongoing rebuke of the communist Beijing if ever there was one – but apparently it's given up countering the Red Dragon's regional claims, too. One likely cause for Taiwan's silence: its new, independence-leaning leader, President Tsai Ing-wen. Her election alone resulted in a series of setbacks for the country – including a loss of diplomatic ties to both Panama and Beijing. So Tsai may be trying to stall the bleeding at this point by choosing not to criticize China outright.
All of which leaves Vietnam as the lone critic of China.
And in response to that criticism, China recently upped its supportive rhetoric for Hanoi's ASEAN counterparts to isolate Vietnam.
"The China Daily referred to [this rhetoric] as 'the dedicated efforts of China and ASEAN to resolve their differences through dialogue,'" Bill says.
Yet Vietnam remains as outspoken and assertive as ever - in spite of its most recent loss to the Red Dragon over a gas drilling project in the South China Sea...
Vietnam Just Lost Billions to China in the South China Sea
The maritime drilling project in question, conducted by a subsidiary of the Spanish energy company Repsol, had started in June off the southern Vietnamese coast – within a 200-nautical-mile exclusive economic zone, in particular. Vietnam claims – as it has since 1996 – that the zone is its own sovereign property.
"In July, Repsol confirmed the existence of what news reports described as 'a major gas field,'" Bill says. "Beijing then demanded that Hanoi order a stop to the drilling."
Vietnam, however, refused to comply.
"So then China allegedly threatened to attack Vietnamese bases in the Spratly Islands if the drilling didn't cease," Bill continues.
And that's how China won its most recent battle with Vietnam.
And though Hanoi stopped its drilling, it didn't stay silent in the wake of this huge economic loss. In fact, it took its qualms with China's injudicious behavior to the international stage - the 50th ASEAN ministerial meeting on Aug. 7.
Members from each of Vietnam's neighbor nations were there.
And that's where the tiny country found some unexpected support…
Vietnam Finds Friends in High Places at ASEAN
Tensions between Hanoi and Beijing flared up once again at the recent ASEAN conference – this time over Vietnam's request to make a "South China Sea code of conduct" a legitimate talking point at the conference.
Vietnam's attending foreign minister, Pham Binh Minh, said that he not only believes that such a code should exist, but that it should be legally binding as well.
China's foreign minister Wang Yi was quick to rebut the proposal. Predictably, the other ASEAN members in attendance swiftly fell in line, with none of them supporting Minh's suggestion, reported The South China Morning Post on Aug. 8.
Despite this lack of support from its peers, Vietnam did get backing from a few new allies at the powwow – powerful ones, at that…
ASEAN Summit attendees from the United States, Australia, and Japan stepped in to challenge Beijing over the concept of a South China Sea code of conduct.
The triad called on China and the Philippines to abide by The Hague Arbitral Tribunal's 2016 award in the Philippines-China arbitration case. That finding gave the Philippines sovereignty over the regional waters it had at one point been fighting China for.
The ministers also urged ASEAN member states and China to fully and effectively implement the 2002 Declaration on the Conduct of Parties in the South China Sea (DOC) – a declaration that was established 15 years ago but never employed.
Their efforts met with some success: China agreed afterward to cooperatively draft and implement a new code in the future. But the Red Dragon was quick to belittle Vietnam once the summit was over…
"Following Vietnam's 'aggressive' stance at the summit, the state-run China Daily singled out the tiny country for 'hypocritically trying to insert tough language criticizing China's island-building into the discussions,'" Bill writes, before adding, "What a bunch of malarkey."
Vietnam got bashed by its neighbors, too…
"On Monday (Aug. 14), Philippine Foreign Secretary Alan Peter Cayetano – ASEAN's chair – publically sided with China," Bill explains, pointing out statements Cayetano made at the start of this week.
In fact, the foreign secretary actually explained away threats of war that China had made on his home country in May…
"Our friend China was just being frank," Cayetano told members of the press Monday, according to The Nation. "There was no bullying or pushing around, it was not a threat."
Furthermore, Cayetano explained that the summit outline had been scrubbed of its usual "anti-Beijing language" because, he claimed, China was no longer engaging in aggressive tactics.
"They're not reclaiming land anymore, so why will you put [that language in] again this year?" Cayetano asked of the crowd, apparently forgetting China's threats to Hanoi just last month over the "massive gas field" and threats of imminent war with the Philippines in May.
"In diplomatic circles, this is a stunner," Bill says. "ASEAN pushes hard to show a united front, so it can claim consensus. But here, Cayetano not only breaks with that usual practice – by publicly admitting that there's discord – but he also throws his support behind China and hangs a fellow ASEAN member out to dry."
"And Cayetano's comment that China is 'not reclaiming land anymore?' Well, that's one of the most disingenuous statements you'll see," Bill adds. "Of course Beijing isn't building new islands – they're already built, as are the military bases that sit on them. It's already militarized the South China Sea."
Indeed, these islands – strategically positioned throughout the region – contain bunkers, weapons, aircraft, and all of wartime's various detritus.
And with such economic powerhouses as Japan and the United States trying to dictate policy and backing China's opponents in the region, tensions will only grow…
In fact, the U.S. military is preparing for battle in the contested waters right now.
And a particular new technology could give America all the leverage it would need to win – and win fast…
Working alongside DARPA – the United States' top-secret weapons manufacturer — small defense firms have been hunting for a way to obliterate the "carrier killer" missile – a Chinese weapon with the capacity to destroy U.S. military aircraft carriers.
And one of these defense contractors may have managed to crack that code.
In fact, the company has developed something that looks like it comes straight from the pages of a science fiction novel.
And if you play your cards right, this one defense contractor might just hand you a massive windfall.
Enough to potentially turn every small stake you invest into $19,690. Check it out…
Meet the American-Made "Chinese Carrier Killer"
Here Are 10 "One-Click" Ways to Earn 10% or Better on Your Money Every Quarter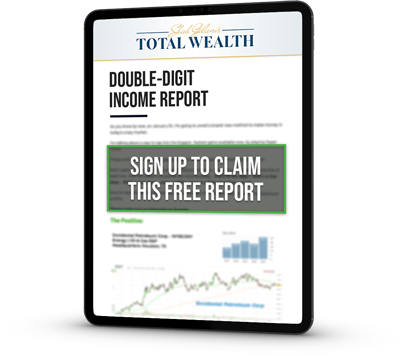 Appreciation is great, but it's possible to get even more out of the shares you own. A lot more: you can easily beat inflation and collect regular income to spare. There are no complicated trades to put on, no high-level options clearances necessary. In fact, you can do this with a couple of mouse clicks – passive income redefined. Click here for the report…