George Soros is betting against American markets.
Again.
U.S. regulatory filings revealed that, as of June 30, the Hungarian-born hedge fund billionaire is holding put options - options he would profit from only if the underlying securities fall in value - on exchange-traded funds (ETFs) tracking major American indexes:
PowerShares QQQ Trust (Nasdaq: QQQ)
SPDR S&P 500 ETF (AMEX: SPY)
iShares Russell 2000 ETF (NYSE Arca: IWM)
These index ETFs represent the tech-heavy Nasdaq, the broad S&P 500, and the small-cap Russell 2000 indexes - three of the four major market indexes in America. And Soros holds put options on all of them, which means he's banking on the failure of not just one or two companies, but the markets as a whole.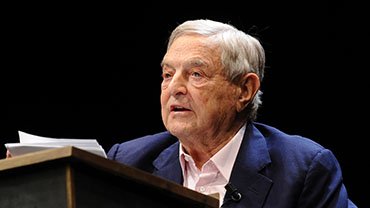 Soros' latest filings revealed that his puts on these specific ETFs were valued at nearly $1.8 billion (over 30% of his portfolio's value) and were three of the four largest single holdings listed in the disclosure.
However, this positioning doesn't necessarily imply Soros is "all in" on a future market crash.
Here's what we mean...
George Soros Could Be Hedging His Bets
Soros' options in those index ETFs could be a large hedge position - meaning they were set up to counterbalance any significant losses in his portfolio.
Unfortunately, since quarterly disclosures of asset managers like Soros don't reveal every detail of the trades they've made, educated guesses about the breadth of their holdings and what they could be hedging against are impossible to make.
But we can look to the past - to Soros' short-betting history in particular - to try and hypothesize what he might be up to...
What George Soros' Latest Bets Tell Us About the Future
This massive accumulation of put options is not the most extreme play Soros has ever made. In fact, his $1.8 billion bet against the U.S. economy may show that he's less bearish than ever before.
Soros rose to international fame (or infamy, depending on your perspective) in 1992, when he bet against the British pound - first by selling sterling off in massive amounts, which devalued the currency, and then by betting against the currency as it fell.
Soros had first built up a massive $1.5 billion short position against the pound in August 1992, The Atlantic explained in June 2010. Though both are bearish strategies for market speculating, short positions are very different than put options. For one, short positions entail a lot more risk.
But the bearish billionaire eliminated much of that risk by altering the value of the pound all by himself.
Urgent: An incredibly rare gold anomaly is shaping up in the markets as we speak - one that has occurred ONLY twice in the past 20 years. And it's about to happen again. Details here...
A month after Soros amassed his large short position - on Sept. 15, 1992 - the Bank of England attempted to slowly extricate itself from its exchange rate mechanism, which was then pegged to the German mark. Doing so made the value of the pound unstable. And that's when Soros jumped in to hasten the sterling's devaluation by selling off his own massive stakes in the pound at the same time.
That devaluation was Soros' ultimate goal that day - and he raked in $1 billion in the span of several hours by "breaking the Bank of England."
However, had the pound gone up in value after he'd placed a short bet, there would be no floor for his losses. He would have lost billions. That's because shorting securities (as opposed to buying put options on them) opens an investor up to the possibility of unlimited risk.
But Soros knew the pound wouldn't increase. Britain's economic status wouldn't allow for it. And of course, he had access to the exorbitant funds required to sell enough sterling to push its overall devaluation further. Soros had no doubt his plan would work.
Compare that to the put options he's buying nowadays.
Long put options, like the ones Soros has purchased here, have maximum loss caps, since the investor can't lose more than the premiums (the price of a particular option contract).
He could still lose all $1.8 billion if his put options expire, but that's the limit. Unlike if he had shorted these ETFs, he can't lose any more than his investment.
This is one reason why some analysts and pundits suspect Soros' put option strategy might be more of a hedge than a bet. He's actually accounting for the possibility that the markets will go up.
And Soros would do well to be so cautious, because it wasn't that long ago that he bet against the markets and lost a billion dollars...
How to Make Soros-Level Gains Without Taking Soros-Level Risk
[mmpazkzone name="in-story" network="9794" site="307044" id="137008" type="4"]
Before the 2016 presidential election took place, Soros had told various media outlets that he was certain a Donald Trump victory would mean market turmoil soon after.
And once the real estate mogul won, Soros put his bearish words into action through short plays - the specifics of which remain, to this day, undisclosed.
But the Hungarian hedge funder's predicted crash never happened.
As a result, Soros' short positions incurred losses approaching $1 billion, according to The Wall Street Journal on Jan. 13.
He did manage to exit some of these positions to stem the bleeding, his former hedge fund deputy told WSJ.
And here we are - still in the midst of a sizeable, months-long market rally that's part of an even larger, years-long bull market run.  And Soros is still betting they're going to soon take a plunge.
Just a little more carefully.
Editor's Note: Pundits denied it, experts doubted it, but on Nov. 5, Keith Fitz-Gerald appeared on national television to predict Donald Trump's election would unlock a historic "rip your face off market rally." Now, as billionaires pour tens of billions of dollars into the markets to chase trillions of dollars still on the sidelines of this rally, Keith is watching a mysterious "X" pattern that's appeared on 47 stocks that he monitors. Since then, all of the stocks have gone up in price, some by as much as 225% in 15 days and 264% gains in less than a month. Click here to find out about the others...
Follow Money Morning on Twitter @moneymorning, Facebook, and LinkedIn.
Related Articles:
[mmpazkzone name="end-story-hostage" network="9794" site="307044" id="138536" type="4"]