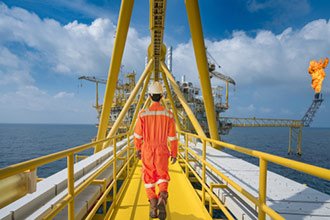 By the end of the August, U.S. WTI oil prices could jump another 20% to $75 per barrel.
Although the Energy Information Administration reported a big jump in U.S. domestic crude supplies, expect this to be the high-water mark. You see, three major trends are set to push oil prices much higher than where they sit today (around $62.50 per barrel)...
First, OPEC has committed to reducing the amount of crude it produces. The world's largest oil cartel - which includes Saudi Arabia - would like Brent crude to hit at least $90 by the end of the year. Furthermore, any positive development on trade between the United States and China will help the broader global economy and spur demand at a time when OPEC is reducing its output.
Second, U.S. production is highly fragmented and based on various breakeven prices around the country. Although the United States is experiencing an excess of supply, it is lacking the pipelines and railcars necessary to bring this crude to refineries. That is driving up the cost of transportation as the summer driving season approaches.
Finally, U.S. sanctions on Iran and Venezuela are cutting into global supply. The United States had been importing 500,000 barrels of heavy crude from Venezuela every day to produce diesel fuel. All of that supply now needs to be replaced at a time that global shipping regulations are poised to drive up the cost of diesel fuel over sulfur emissions at the end of the year. Limited supply combined with limited diesel refining capacity equates to higher demand for more scarce crude.
Don't Miss: Trump's Secret Weapon Set to Foil China's Master Plan
Rising oil prices have a positive impact on the price of energy stocks. This is especially true for producers and transport companies that bring supply downstream to the refineries. The higher the price of oil, the more the reserves are worth on an exploration and production firm's balance sheet. And the higher the price of crude, the more fees midstream companies can collect for the transportation and storage of crude oil.
Right now, investors are searching for the best energy stocks to buy. To find these companies, we tapped into the Money Morning Stock VQScore™ system. This proprietary system tracks only the world's most profitable companies and assigns them a score based on the probability that their share price will shoot into the stratosphere. A score of 4 or better puts the stock in our "Buy Zone," signaling this is the time for investors to acquire shares.
Today, we'll look at the two best energy stocks to buy in April.
Top Energy Stock to Buy, No. 2
[mmpazkzone name="in-story" network="9794" site="307044" id="137008" type="4"]
Drive down any city street, and eventually you'll run into a gas station linked to Royal Dutch Shell Plc. (NYSE: RDS.A).
But that's just where the oil ends up - at the end of the supply chain, in your car.
Royal Dutch Shell is the world's second largest oil-and-gas company by market capitalization.
But unlike its rivals Exxon Mobil Corp. (NYSE: XOM), Chevron Corp. (NYSE: CVX), and BP Plc. (NYSE: BP), Royal Dutch Shell is extremely diversified in alternative energy systems and is a leading player in the transition to cleaner sources of energy.
Just this week, the firm announced plans to leave the U.S. refining lobby, American Fuel & Petrochemical Manufacturers, due to disagreements over climate policies.
Compared to other players in the sector, RDS.A is cheap and prepared for a big liftoff relative to its competitors as oil prices rise. That's because alternative energy stocks are positively correlated with the price of oil. When oil goes up, so do they.
Royal Dutch Shell's stock trades at a price/earnings ratio of just 11.35, while the industry average is 18.67.
Its price-to-sales is ridiculously low, at 0.67, and is almost a quarter of the industry average of 2.73.
Finally, RDS.A is trading at just 1.31 times book value, while its average competitor trades at a whopping 3.45 times book.
But the most intriguing number is Royal Dutch's VQScore™.
Right now, the stock has a top score of 4.75, putting it square in our Buy Zone.
RDS.A currently sits at just $64 per share.
But with oil prices set to press higher this summer, the stock could easily top $80 by the end of the third quarter. That's a quick 25% return in only a few months.
But that's not all. The VQScore has given us another energy stock to buy. And this one has an upside of 60% in just a few short months...
Top Energy Stock to Buy, No. 1
Our next energy stock to buy is Continental Resources Inc. (NYSE: CLR).
The small dip in the stock on Wednesday has given you a solid buying opportunity after its price run-up throughout March.
Continental Resources is an Oklahoma-based oil-and-gas company with operations in the Bakken oil fields, the Oklahoma Stack, Stack Woodford, Scoop Woodford, and Scoop Springer formations.
Roughly 55% of its production came from the North Dakota side of the Bakken in the fourth quarter of 2018. And as oil prices move higher, so too will the total amount of reserves across its production fields.
As of Dec. 31, 2018, Continental's total proved reserves hit 1.522 billion barrels of oil equivalent. That's a 14% increase from 2017.
The company has a strong balance sheet and limited exposure to debt obligations in the near term. This is important because the company proved it was capable for weathering the storm of falling prices at the end of 2018.
With oil prices set to rise and since the stock pulled back, the VQScore is flashing a strong buy signal.
Continental Resources just earned a 4.75.
There might not be a better time to pick up CLR shares this cheap.
Continental Resources currently trades at $47 per share after Wednesday's brief drop. But given the bullish argument in favor of crude prices, this stock should hit $75 by the end of the year.
That figure represents an upside of 60% from today's closing price.
Secret Weapon Set to Foil China's Master Plan: The South China Sea is about to get violent, and the Chinese have an alarming new superweapon they think gives them the upper hand. Or at least that's what their war hawks think. But they couldn't be more wrong. Thanks to a small $6 U.S. defense contractor with a top-secret technology, the Pentagon has an ingenious new checkmate move designed to stop a Chinese sneak attack dead in its tracks. Click here to learn more...