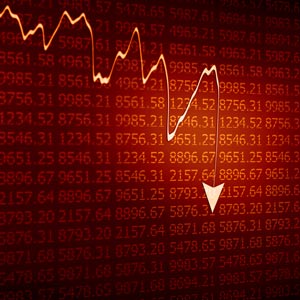 We've found four stock market crash indicators showing signs the market might face a pullback soon.
Fortunately, Money Morning has a proven investment strategy to profit during a stock market crash.
We'll explain our investment strategy below, but first investors need to be aware of the stock market crash indicators we are seeing…
Stock Market Crash Indicators No. 1: The Brexit Effect
In late June, the United Kingdom (UK) voted to leave the European Union (EU), an alliance it had been in since the 1970s. The vote on the British exit was dubbed Brexit.
Markets around the world immediately sank.
Brexit will have significant worldwide economic impact. It means that the benefits of economic cooperation among European states the UK has enjoyed for four decades are ending.
It will become harder for international firms with British-based operations to operate in Europe without significant red tape, and harder for their profits to reach pre-Brexit levels. Many other global firms may leave Britain as a result.
Don't Miss: Get the Best Investing Research Today to Grow Your Money
Before the vote, major international organizations like the IMF cautioned that the British economy would shrink as a result. After Brexit, the IMF reduced its global growth estimate by 0.1%. Markets do not like uncertainty, and Brexit added a lot of uncertainty.
First, the fate of the EU itself hangs in the balance. Britain leaving may encourage other countries to leave. Voters in France, Italy, and the Netherlands have called for similar referendums. If enough countries leave the union, then it might dissolve entirely.
Second, the general global trend toward free trade and open borders might be coming to an end. Brexit signals that at least one country has decided to move toward protectionism. Increasing protectionism will weaken global economic growth.
But Brexit isn't the only problem troubling world markets. Central banks across the world are keeping interest rates very low, and this is another of our stock market crash indicators…
Stock Market Crash Indicators No. 2: Low Global Interest Rates
In an attempt to stimulate their economies, many European countries have repeatedly lowered their interest rates until they are below zero. In Europe, Denmark, Norway, Switzerland, and Sweden, all currently have negative interest rates.
Globally, the use of negative interest rates has risen to the point where one in three government bonds have a negative yield.
Even when yields aren't negative, many hover near negative levels and are extraordinarily low by historical standards. Two years ago, the European Central Bank (ECB) was the first major financial institution in Europe to initiate negative interest rates. As of August 2016, its rate was 0.4%.
Low interest rates aren't confined to Europe, either.
In August, the Reserve Bank of Australia (RBA) reduced its rates by 0.25% to 1.50%. The drop was driven by record low inflation and a slow pace of job creation. During the last quarter on record, inflation reached only 1.5% in Australia, significantly under the RBA's target of 2% to 3%. The RBA doesn't forecast inflation hitting its target for nearly two more years.
Poor economic growth has also encouraged central banks to keep interest rates low. The Australian economy has created only 7,000 jobs per month on average so far in 2016, versus 30,000 a month in the year prior. Because of this grim economic news and RBA's already low interest rates, analysts like Martin North of Digital Finance Analytic say negative interest rates are now a possibility.
In the United States, interest rates stand at historic lows. The Federal Open Market Committee (FOMC) raised rates by 0.25% in December 2015. The S&P 500 fell by over 9% in the month after rates were raised.
The next meeting of the Fed is set for Dec. 13-14, its first since the presidential election. The FOMC is expected to raise rates at the meeting.
CME Group's FedWatch Tool currently shows a 90.6% probability of the Fed raising rates a quarter of a point. In the video below, Money Morning Technical Trading Specialist D.R. Barton discusses the likelihood of the Fed raising rates in December and what that means for the market.
Extremely low interest rates are a stock market crash indicator because they contribute to artificially inflating the stock market.
First, bondholders of sovereign national debt are in effect paying the central bank to hold their money, rather than receiving a return on their bond investment.
Second, because bonds are traditionally a source of stability for investors, negative rates are forcing investors into riskier investments, like stocks.
Up Next: Are you doing everything you can to grow your retirement "nest egg"? You can start today with our top 5 money-making investment reports – they're absolutely free…
Stock market observers believe that the effects of low and negative interest rates have artificially pushed markets to heights they would not have achieved otherwise.
An artificially inflated stock market is one of the primary factors underlying concerns about a possible stock market crash in 2016. However, it wouldn't be possible without our next stock market crash indicator…
Stock Market Crash Indicators No. 3: Poor Economic Growth
Economic growth is not as robust as the Fed would have you believe.
GDP growth has fallen sharply for the last two years. GDP growth is one of the most important economic indicators and is seen as a measure of overall economic health.
GDP growth plummeted 76% from July 2014 to July 2016.
In Q2 2016, U.S. GDP rose only 1.1%. While Q3 2016 GDP growth improved, coming in at 2.9%, it's still down from 5% in 2014.
Wages are also struggling to keep up with inflation. The U.S. Bureau of Labor Statistics (BLS) reported average hourly earnings for all employees decreased by 0.1% between August and September this year. They also reported the Consumer Price Index rose by 0.3% during that same period.
Money Morning Chief Investment Strategist Keith Fitz-Gerald notes weak wage growth is impacting the economy.
"The hard truth is millions of American families are living paycheck to paycheck," Fitz-Gerald says. "The economic 'recovery' that the Fed and legions of economists are so proud of having engineered doesn't exist – and hasn't for a very long time."
Fitz-Gerald also notes that the much-watched jobs report doesn't tell the whole story and the BLS' method can make employment rates look better than they are.
Before 1959, the BLS reports were simply raw job additions each month. Since then, they've added "seasonal adjustment" measures. Seasonal adjustment is a way to control for jobs lost because people are let go after holiday shopping, severe weather preventing housing construction, and students returning to school.
These seasonally adjusted figures can make the economy look much better than it is.
And a weak economy certainly isn't confined to the United States. Global growth is currently at 3.1%, which is not as low as the United States, but the IMF warns "persistent stagnation in advanced economies" could continue.
While overall economic growth has been weak, important sectors like corporate growth have also flagged…
Stock Market Crash Indicators No. 4: Weak Corporate Earnings
While the Dow closed at a record high on Monday, corporate earnings are far from robust this year.
In Q2, earnings for the companies that make up the S&P 500 fell 3.2%, as reported by FactSet. The drop was also the first time corporate earnings have fallen for five straight quarters since the financial crisis year of 2009.
The reason weak corporate earnings make our list of stock market crash indicators is because increased corporate earnings are usually the driver of stock market growth. But that's not what's happening.
As outlined above, overall economic growth hasn't fueled rising stock prices, and corporate growth hasn't, either. These are signs of a stock market bubble.
The stock market crash indicators we've identified point to the possibility of a future crash. Investors need to be aware of not only the indicators, but how to protect their money during a stock market crash.
Fortunately, we have an investment strategy ready to help investors not just protect their money, but profit, during a stock market crash…
Protecting Your Money During a 2016 Stock Market Crash
We have several proven strategies for protecting your money during a stock market crash. Our first strategy is to invest in gold.
Gold is a hedge against uncertainty and market swings and is seen as a safe haven during a stock market crash. When the market falls, the price of gold should soar.
Money Morning Global Credit Strategist Michael E. Lewitt recommends a gold-backed ETF like the SPDR Gold Trust (NYSE Arca: GLD).
A gold-backed ETF is much more convenient than buying and holding physical gold, which requires storage and security. GLD trades on a stock exchange, so it can be bought and sold like a stock. However, it rises and falls with the price of gold. Investors can realize the profits of the precious metals and also have the ability to raise or reduce their stake easily.
Lewitt also recommends that investors raise the percentage of cash in their portfolio. During volatile times like a stock market crash, having a percentage of your portfolio in cash is a way to hedge against losses from stocks. Additionally, investors will have the cash ready for investment once the market recovers.
Get on the Path to Greater Wealth: When it comes to making money in the market, "getting in" early – before a stock begins to make its decisive move – is the single biggest factor to your success as an investor. Quickly buying Apple after the June 2013 sell-off, for instance, could have doubled your money. Moving on Valeant the same day we recommended our big "negative bet" against it would've booked you a remarkably fast 700% return. That's why we've introduced Money Morning Profit Alerts. This new, free service lets you choose what investing areas you want to follow – and makes sure you get alerted to news from that sector as soon as we publish it. It means no more waiting. No more searching. No more missing out. It's easy to get started – just go here.
Follow Money Morning on Facebook and Twitter.