This was a volatile year for the oil markets, with prices ranging from $35.73 to $53.59. And 2017 could be just as volatile.
That's why we created our 2017 oil price prediction. This full oil price breakdown will show you where oil prices are headed, and how you can profit from them.
Crude oil prices hit a record low of $35.73 in January this year, crude's lowest price since 2002. But prices have since rebounded.
WTI crude oil is currently trading at $52.79. That's a nearly 50% jump since prices cratered on Jan. 20. Brent crude prices are up almost 60% since hitting their low in January. Brent crude is trading at $55.03.
The reason oil prices have risen so much is the OPEC deal. The cartel announced an agreement to cut oil production on Nov. 30. Since then, Brent crude is up 12%, and WTI crude oil prices are up 15%.
While the OPEC agreement helped raise oil prices, there's a lot of uncertainty ahead in 2017. Before we get to our 2017 oil price prediction, let's look at why oil prices were so volatile in 2016…
The Geopolitics of Oil Prices
When investors think about oil prices, they think about supply and demand first. But the primary driver of oil prices goes beyond simple supply and demand.
"When it comes to the international oil market, geopolitics always trumps market dynamics," Money Morning Global Energy Strategist Dr. Kent Moors said.
Geopolitical events can dramatically affect the price of oil for two main reasons.
First, many governments control the supply of oil within their borders.
National governments control some of the biggest oil companies in the world. According to Forbes, Saudi Aramco (Saudi Arabia), National Iranian Oil Co. (Iran), PetroChina (China), and Gazprom (Russia) are four of the five biggest oil companies in the world. They are all controlled or owned by their national governments.
That means investors need to understand the interests and issues facing these countries.
Second, because oil is extracted from the ground, events in oil-producing regions affect how much oil is produced.
Wars in Iraq and Libya have destroyed much of the oil production capacity of these countries. International sanctions against Iran crippled its ability to export oil abroad. Political debates in the United States on environmental regulations affect how cheaply oil can be extracted.
The WTI oil price chart below shows the 2016 WTI price and the major geopolitical events that corresponded to big shifts in oil prices.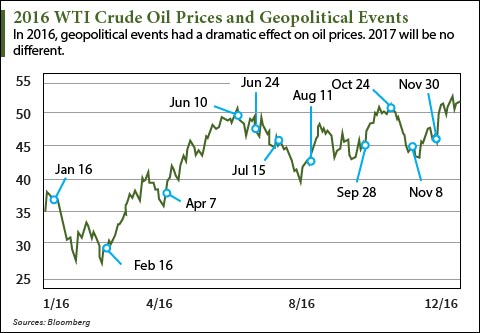 These are the geopolitical events identified in the crude oil price chart above:
Jan. 16 – The Western sanctions crippling Iran's export economy were lifted, allowing Iranian oil to be sold across the world. Iran has increased oil production by 20% since sanctions were lifted.
Feb. 16 – Saudi Arabia and Russia agreed to cap their oil production at existing levels. Oil prices rose 6.7% the next day.
April 7 – Libya's UN-backed government reclaims control of its oil ahead of an OPEC meeting. Oil prices climbed 12.3% in three days of trading.
June 10 – China reached its oil storage capacity, a sign of an oversupply of oil. Crude oil prices dropped 8.8% over the following week.
June 24 – The United Kingdom voted to leave the European Union. WTI prices fell 6.4% in one day.
July 15 – A failed military coup in Turkey shook oil markets. Turkey is a strategically important country in the Middle East and a major conduit of oil pipelines through the region. Oil prices fell 6.5% over the week.
Aug. 11 – Saudi Arabia begins pushing for an OPEC agreement to freeze oil production. WTI crude oil prices jumped 15% over the next week.
Sept. 28 – OPEC announced it reached a tentative agreement to cut oil production during its meeting in Algiers. Oil prices jumped 9.2% during the next week.
Oct. 24 – News broke that Iraq was seeking an exemption from the OPEC deal, throwing into question whether an agreement would happen at all.
Nov. 8 – Donald Trump won an upset victory in the U.S. presidential election. His proposed energy policies could lead to more oil supply through American oil production.
Nov. 30 – OPEC announces its plan to cut oil production is official. WTI oil prices have risen 15% since then.
Looking ahead to 2017, there are some key geopolitical events on the horizon…
What's Next for 2017 Oil Prices
There are five major geopolitical issues that could shake up the oil market in 2017.
First, Donald Trump will be sworn in as the next U.S. president on Jan. 20. While the inauguration itself might not shift 2017 oil prices, President Trump's decisions will.
Once Trump is sworn in, the U.S. Senate can officially begin hearings to confirm his cabinet nominees. His top nominee is the former CEO of Exxon Mobil Corp. (NYSE: XOM), Rex Tillerson. Tillerson will run the State Department.
Trump has also nominated Oklahoma Attorney General Scott Pruitt to head the Environmental Protection Agency, which will require a confirmation vote by the Senate.
These nominees are consistent with Donald Trump's plan to make America "energy independent." To do this, Trump wants to ease restrictions on oil drilling in the United States.
Tillerson headed the U.S.' largest oil company, and Pruitt is a fierce advocate for the oil industry against government regulations.
If confirmed, they could shift policies toward increasing oil production in the world's largest oil-producing country.
Second, the U.S. Federal Reserve is expected to hike interest rates three times in 2017.
Because oil trades in American dollars, the Fed's interest rate decisions will affect the price of oil. The WTI crude oil price jumped 3% the day after the Fed announced its latest rate hike on Dec. 14.
And during the Fed's December meeting, FOMC members indicated three more rate hikes were likely to come in 2017.
Don't Miss: How to Make a Killing… When Everyone Else Is Panicking
Third, the European Union could see more members attempt to leave.
After Britain voted to leave the EU in June 2016, nationalist movements in other EU member countries have gathered steam.
France will vote for a new president in May 2017. Marine Le Pen, an outspoken advocate of France leaving the EU, will likely be one of the two finalists during the May vote. If Le Pen wins, her election could lead to a "Frexit."
WTI crude prices fell 6.4% the day after the Brexit vote. Frexit could be even bigger.
Italy may also hold a parliamentary election early in 2017 after Prime Minister Matteo Renzi resigned in December.
Beppe Grillio – the leader of Italy's Five Star Movement and candidate to replace Renzi – wants to call a referendum on Italy's membership in the EU.
And Britain will still need to invoke Article 50 to formally begin withdrawing from the EU. British Prime Minister Theresa May says she will trigger Article 50 by March 2017. Making Brexit official might lead to another price drop like the one after Britain's referendum in June.
Fourth, global economic growth will increase demand for oil in 2017.
The World Bank is expecting crude oil demand to rise by 1.3% in 2017 to an average of 96.3 million barrels a day. The largest increase in demand will come from non-OECD countries, especially China and India. Non-OECD demand for crude oil in 2017 will increase by 2.3%.
Act Now: How to Grab Explosive Emerging-Market Profits and Keep Your Money Here at Home
But, while demand is expected to grow in 2017, it's growing at a slower rate than in previous years.
The International Energy Agency reports demand will increase by 1.3 million barrels a day in 2017. But this is less than the last two years. Crude oil demand increased by 1.4 million barrels a day in 2016 and by 1.9 million in 2015.
Fifth, OPEC meets again in May 2017.
This is a routine meeting, but the meeting could deliver insight on how well the agreement is working.
And whether OPEC can make the agreement work will be one of the biggest issues of 2017…
OPEC Will Continue to Affect Oil Prices in 2017
Even though OPEC agreed to cut oil production on Nov. 30, the cartel will have to enforce the deal when it goes into effect on Jan. 1, 2017.
On Nov. 30, the announcement of the OPEC agreement injected optimism into the oil market. WTI crude oil prices are up 15% since the deal was struck.
According to Moors, traders are optimistic because the deal means OPEC will be able to manage a price floor for oil above $50 a barrel.
However, whether the cartel can maintain the agreement will be the top question of 2017.
The biggest problem is OPEC has no way to enforce the agreement. Membership in the cartel is voluntary, and the cartel has no power to force compliance.
Typically, the only way for OPEC to keep all members in line is through the threat of Saudi Arabia's oil supply.
By flooding the market with Saudi oil, the Saudis can drive down prices and bring OPEC members back to the bargaining table.
But Saudi Arabia already played its hand by sinking oil prices before the agreement.
The Saudis decided to flood the oil markets after the November 2014 OPEC meeting. The Wall Street Journal reports the Saudis were trying to combat the growth of American tight oil by making shale oil too unprofitable to extract.
Oil prices fell 53% between the November 2014 decision and oil's lowest point in January 2016.
OPEC hadn't agreed to a production cut since 2008, and the oil price crash made cartel members more willing to negotiate this year. But, having already collapsed oil prices, the Saudis might not have any ammunition left if the deal falls apart.
With OPEC unable to keep rogue members in line, any country deciding to ignore the agreement could unravel the entire deal.
And a few countries are already reluctant participants.
Libya and Nigeria are exempt from OPEC's production cut due to ongoing conflicts in their countries.
But Libya has just reopened pipelines connecting its major oil fields. Libya's National Oil Corp. plans to add 270,000 barrels per day to its production over the next month.
Libya's ability to increase production could put pressure on other cartel members who agreed to abide by the deal.
During negotiations, both Iran and Iraq sought exemptions from the OPEC agreement. Iraq argued it needed to produce more oil to offset the destruction of the war, and Iran said it deserved to produce more oil after Western sanctions were lifted. If one of these countries abandons the agreement, the other will almost certainly do the same.
And these two countries are essential to the agreement working.
Iraq's declaration on Oct. 24 that it was seeking an exemption from the agreement saw oil prices plunge by 13% over the next week as the markets lost faith in the OPEC deal.
However, if OPEC can maintain the deal, oil prices could rise in 2017.
After analyzing these five issues, Moors issued his prediction for oil prices in 2017. And Moors' oil price predictions have a proven record.
Four months ago, Moors predicted WTI oil prices at the end of 2016 would be between $52 and $54 a barrel. As the year ends, WTI crude is trading at $52.79 a barrel.
Here's where oil prices are heading in 2017…
Our 2017 Oil Price Prediction and How to Profit