The Dow Jones today yo-yoed up and down, falling triple digits before rallying late in the afternoon to end just above even for the day. Concerns about global growth and falling energy prices offset hopes of pending stimulus action by the European Central Bank and gains in the technology sector.
Shares of Johnson & Johnson (NYSE: JNJ) were the largest drag on both the Dow and S&P 500, slipping 2.6% after the company reported weaker than expected earnings.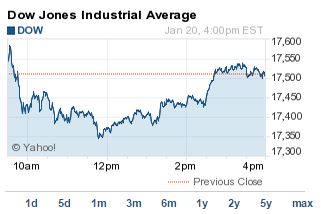 Today's Scorecard:         
Dow: 17,515.23, +3.66, +0.02%      
S&P 500: 2,022.55, +3.13, +0.15% 
Nasdaq: 4,654.85, +20.46, +0.44%
What Moved the Markets Today: Investors soured on the markets after the International Monetary Fund slashed its growth forecasts over the next two years, calling for global growth at 3.5% in 2015 and 3.7% in 2016. West Texas Intermediate oil prices slipped more than 4.7% today, while Brent crude oil prices were down more than 1.3%.
However, the markets seemed upbeat about potential for stimulus action by the European Central Bank (ECB). The ECB is likely to announce a massive bond-purchasing program Thursday to inject life into the world's largest economic bloc.
Now check out the day's most important market notes:
Now our experts share some of the most important investment moves to make based on today's market trading - for Money Morning Members only:
[epom key="ddec3ef33420ef7c9964a4695c349764" redirect="" sourceid="" imported="false"]

How the Terrorism "Trend" Is Moving Your Money Today: The recent terrorist attack in Paris has spurred the need for a difficult conversation. Here's the thing: The tragic irony in the financial world is that terrorism actually creates far more opportunity than it destroys. Money Morning Chief Financial Strategist Keith Fitz-Gerald explains what this means for your money in 2015 and beyond...

CES 2015: How to Profit from the Hottest Tech Trends: According to the Consumer Electronics Association trade group, Americans will buy 1.43 million UHDTV sets, or roughly 5% of televisions sold nationally, in 2016. That's a 60-fold increase from 2013, when UHDTVs debuted. And of course, there's big profit potential in all those UHDTVs our fellow Americans will be buying. So hit the floor of the Consumer Electronics Show 2015 with Money Morning Tech Specialist Michael A. Robinson to start profiting today...
Why the 'Big Money' Still Believes in Auto Stocks:S. auto sales were up big in 2014 and are expected to stay strong in 2015. Oil prices have collapsed and gasoline prices are at their lowest in years, fueling demand for pickup trucks, SUVs, and RVs... Indeed, signs of a boom time for the American auto industry appear aligned, but auto stocks are trading at depressed values compared to the rest of the market. Are auto stocks ripe to buy, or are they simply a value trap? Here's the real answer.
About the Author
Garrett Baldwin is a globally recognized research economist, financial writer, consultant, and political risk analyst with decades of trading experience and degrees in economics, cybersecurity, and business from Johns Hopkins, Purdue, Indiana University, and Northwestern.