For April 24, 2015, here's how the U.S. stock market did today, earnings reports, the top stock market news, and stocks to watch based on today's market moves…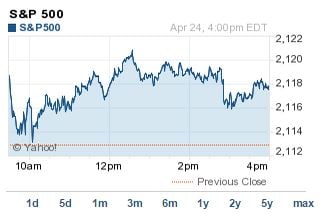 How Did the Stock Market Do Today?
Dow: 18,080.14, +21.45, +0.12%
S&P 500: 2,117.69, +4.76, +0.23%
Nasdaq: 5,092.08, +36.02, +0.71%
The Nasdaq Composite Index struck another closing high Friday, fueled by strong earnings reports from Google Inc. (Nasdaq: GOOG, GOOGL), Amazon.com Inc. (Nasdaq: AMZN) and Microsoft Corp. (Nasdaq: MSFT). The S&P 500 also hit a new record close today. The DJIA Index gained 21 points.
Top Stock Market News Today
Stock Market Recap: Tech stocks pushed the S&P 500 and Nasdaq into record territories, although the DJIA only saw modest gains. Blue chips were unable to offset the losses of oil giants Chevron Corp. (NYSE: CVX) and Exxon Mobil Corp. (NYSE: XOM) and financial stocks.
Looking Abroad: Investors in Europe were pleased by news that German business sentiment rose again in April to its highest levels since last June. The Ifo Business Climate Index rose to hit 108.6 in April from 107.9 in March. The index beat Wall Street expectations by 0.2 points, a sign of continued confidence in Europe's largest economy.
Stocks to Watch: AAPL, MSFT, MYL, TWTR
What Investors Must Know This Week