For May 8, 2015, here's how the stock market did today, earnings reports, the top stock market news, and stocks to watch based on today's market moves…
How Did the Stock Market Do Today?
Dow: 18,191.11, +267.05, +1.49%                         
S&P 500: 2,116.10, +28.10, +1.35%
Nasdaq: 5,003.55, +58.00, +1.17%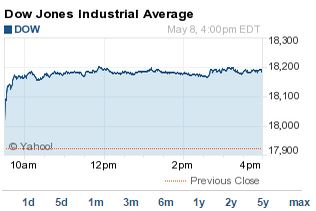 Why the Market Is Up Today: The DJIA Index surged 267 points as a strong April jobs report suggests the U.S. economy is gaining steam. The news could press the U.S. Federal Reserve to provide a clearer timeline for when it will raise interest rates.
The S&P 500 Volatility Index (VIX), the market's fear gauge, plunged 14.7%.
Top Stock Market News Today
Stock Market Recap: The markets soared after the U.S. Labor Department said the economy added 228,000 jobs and the unemployment rate hit 5.4% in April. Economists had expected an increase of 224,000 last month after the jump of just 126,000 in March. The unemployment rate is now at a seven-year low (May 2008), which could push the Federal Reserve to its first interest rate hike since 2006. The U.S. labor participation rate is still a worrisome 62.8%. Also troubling: the 68% increase in job layoffs in April…
International, In Focus: In the United Kingdom, David Cameron will remain the prime minister and the Conservatives won 326 seats, giving the party a narrow majority. Meanwhile, support for the 12-nation Trans Pacific Partnership trade agreement received a boost after Nike Inc. (NYSE: NKE) pledged to create up to 10,000 U.S.-based manufacturing jobs should the deal receive approval.
On Tap Monday: Next week, a light week of data follows Friday's jobs report, while investors turn their attention back to Greece and its ongoing debt woes. On Monday, investors will also keep an eye on earnings reports from Rackspace Hosting Inc. (NYSE: RAX), Actavis Inc. (NYSE: ACT), Dean Foods Co. (NYSE: DF), and Molycorp Inc. (NYSE: MCP). 
Stocks to Watch: AAPL, SBUX, SYN, WMT, AOL, MCD
What Investors Must Know This Week