For May 14, 2015, here's how the stock market did today, earnings reports, the top stock market news, and stocks to watch based on today's market moves…
How Did the Stock Market Do Today?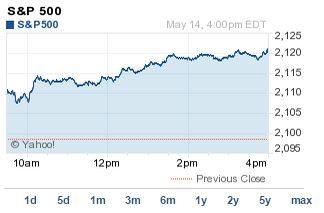 Dow: 18,252.24, +191.75, +1.06%
S&P 500: 2,121.10, +22.62, +1.08%
Nasdaq: 5,050.79, +69.10, +1.39%
Why the Market Is Up Today: The S&P 500 soared to a new closing high and the DJIA Index rose 191 points on news that weekly jobless claims remained near a 15-year-low.
A falling U.S. dollar fueled optimism about the possibility of stronger international sales for domestic-based companies.
The S&P 500 Volatility Index (VIX), the market's fear gauge, fell 7.4% on the day.
Top News in the Stock Market Today
Metals Rally: Gold prices continued to rally Thursday as concerns about the dollar and broader economic data weigh on investors' minds. Gold for June delivery jumped another 0.6% to settle at $1,225.20 per ounce. This is the highest price since mid-February. Silver prices increased another 1.2% to more than $17.46 an ounce.
Retail Rout: Retail stocks continued to decline after April's disappointing retail sales and earnings reports. Kohl's Corp. (NYSE: KSS) slipped 13.29% and C. Penney Co. Inc. (NYSE: JCP) dipped 7.69% after both companies reported mixed earnings reports late Wednesday.
Stocks to Watch: AAPL, BABA, SHAK, CSCO, EBAY
What Investors Must Know This Week