For May 21, 2015, here's how the stock market did today, earnings reports, the top stock market news, and stocks to watch based on today's market moves…
How Did the Stock Market Do Today?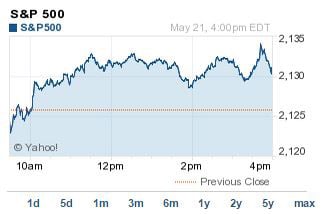 Dow: 18,285.74, +0.34, 0.00%
S&P 500: 2,130.82, +4.97, +0.23%
Nasdaq: 5,090.79, +19.05, +0.38%
The S&P 500 hit yet another record today thanks to earnings reports and expectations that the Federal Reserve will not raise interest rates until next year. The DJIA Index ticked upward marginally. The S&P 500 Volatility Index (VIX), the market's fear gauge, roughly 6% on the day.
On Friday, Federal Reserve Chairwoman Janet Yellen will give a speech on the outlook of the U.S. economy from Providence, R.I., at 1 p.m. today. Investors will keep an ear on her speech, looking for clues on the Fed's interest rate plan following the release of the FOMC minutes on Wednesday.
Top Stock Market News Today
Oil Splurge: S. oil futures rose again on geopolitical concerns in Yemen and Iraq. In addition, geopolitical concerns in Yemen continue to weigh on crude oil prices. WTI crudefutures for July gained nearly 3% to hit $60.69 per barrel. Brent oil was up nearly 2.2% to hit $66.52 per barrel.
Looking Abroad: At a time when Greece is likely to leave the European Union, Ukraine's hopes for joining the EU are being dashed by Germany's Chancellor Angela Merkel. Ukraine Foreign Minister Pavlo Klimkin said this week that he anticipates the EU's meeting with six former Soviet satellites would lead to a temporary membership for the nation. However, Merkel suggested that none of these nations have met the pre-conditions needed to warrant a vote on their status.
On Tap Friday: Tomorrow investors will keep their focus on U.S. economic data, which includes the Consumer Price Index. Companies reporting earnings this morning include Deere & (NYSE: DE), Foot Locker Inc. (NYSE: FL), Hibbett Sports Inc. (Nasdaq: HIBB), Campbell Soup Co. (NYSE: CPB), and ANN Inc. (NYSE: ANN).
Stocks to Watch: CRM, OCR, CVS, HPQ, AMZN
What Investors Must Know This Week