The KMI stock price fell 4.3% and hit an all-time low of $15.73 a share on Tuesday. The plunge came after the oil pipeline giant shocked Wall Street with a surprise announcement.
On Dec. 8, Kinder Morgan Inc. (NYSE: KMI) reduced its dividend by 75% from $2.04 a share to $0.50 a share. Officials cited high spending on drilling projects and low cash flow as reasons for the cut.
Kinder Morgan is the largest energy infrastructure company in North America. It operates more than 80,000 miles of pipeline and 180 terminals for the transportation and storage of oil and natural gas.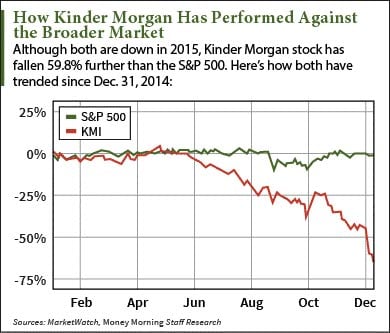 The company's dividend cut comes at a time when U.S. oil titans are struggling to achieve profitability and float expensive drilling projects. After all, the WTI crude oil price currently trades at a seven-year low of $36.90 a barrel, and the U.S. oil supply stands at an 80-year high of 485.9 million barrels.
But the Kinder Morgan stock drop this week doesn't come as much of a surprise. That's because it has already been one of the worst-performing oil stocks of 2015…
The KMI stock price has cratered 60.3% so far this year. That's significantly worse than some of the most actively traded Big Oil companies. BP Plc. (NYSE ADR: BP), Exxon Mobil Corp. (NYSE: XOM), and Chevron Corp. (NYSE: CVX) are only down 16.6%, 18.2%, and 21.9% in 2015, respectively.
While some investors may see this as the perfect opportunity to buy in at a discount, there's one reason why the KMI stock price will keep falling in 2016…