Earnings Update, 8:45 a.m., July 29: Exxon missed analyst expectations by a huge margin. The company earned $0.41 per share on $57.7 billion in revenue, below the $0.64 and $58 billion estimates.
Shares of Exxon Mobil stock are down 2.7% to $87.78 this morning.
The original story is below.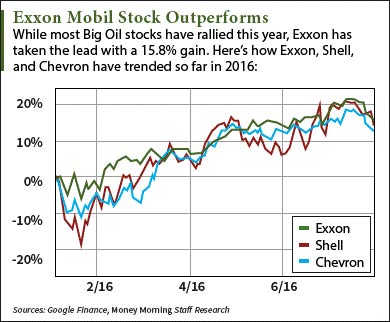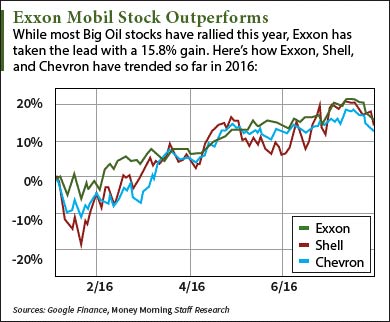 Exxon Mobil stock has been one of the best-performing crude oil stocks of the year.
Shares of Exxon Mobil Corp. (NYSE: XOM) have surged 15.8% in 2016 and currently trade near $90. That beats other Big Oil stocks like Chevron Corp. (NYSE: CVX) and Royal Dutch Shell Plc. (NYSE ADR: RDS.A), which are up 12.8% and 14%, respectively. Exxon has also outperformed the S&P 500's gain of 6%.
But this rally in the Exxon Mobil stock price could end after the company releases its Q2 earnings report today (Friday, July 29)…
Despite their 26% rise last quarter, WTI crude oil prices only traded between $38 and $48 a barrel in Q2. That was far below the mid-$50 range producers need to profitably drill for oil. In other words, large oil companies like Exxon are in for a steep plunge in profits this earnings season.
Editor's Note: Amazon reports earnings today, and there's one metric everyone's watching that will dictate where Amazon stock goes in 2016. Find out more.
That's why we're going to talk about whether or not you should buy Exxon Mobil stock as a long-term investment today.
First, here's what to expect from the Exxon earnings report this morning…
What Analysts Think About the Exxon Earnings Report and Exxon Mobil Stock
The 26 analysts surveyed by FactSet Research Systems Inc. (NYSE: FDS) project Exxon to report $0.64 per share on $58 billion in revenue. That would be a 36% decline from $1 a share and 21.6% drop from $74 billion in Q2 2015.
Despite the sharp declines on the top and bottom lines, some analysts expect Exxon to increase its dividend. Goldman Sachs Group Inc. (NYSE: GS) stated the oil giant is poised to raise its payout for a couple of reasons. These include Exxon's $2.5 billion acquisition of InterOil Corp. (NYSE: IOC) expected to close this fall and the discovery of an offshore oil field near Guyana.
Don't Miss This: Stocks with high dividend payouts provide triple the returns of non-dividend stocks. And these "dividend kings" have increased payouts for 50 straight years…
Even if the firm raises its dividend and beats earnings expectations, Money Morning Global Energy Strategist Dr. Kent Moors still recommends avoiding Exxon Mobil stock in 2016.
In fact, Moors – a 40-year veteran of the global oil industry – advises avoiding all Big Oil stocks. These are the eight biggest independent oil companies in the world and include…
Here's one reason why investors in these companies could see big losses this year…
Why Exxon Mobil Stock and Other Big Oil Stocks Will Decline in 2016
One reason why Big Oil stocks are a bad investment is the companies' rising debt levels.
You see, many analysts have upgraded several Big Oil stocks over the past few months. Back in May, Argus upgraded Exxon stock to a "Buy" rating. French bank Société Générale gave BP stock the same recommendation earlier this year and just reiterated the "Buy" rating yesterday (Wednesday, July 27).
What these banks don't talk about in their upgrade reports is how the debt levels of these oil titans have increased tenfold in the last decade. Their return on drilling and capital expenditure projects has dropped from 22% to 7% since 2006. That's because these firms spent billions on drilling projects that never yielded big profits due to the crude oil price crash from 2014 to February 2016.
Exxon's sky-high debt forced ratings agency S&P to remove the company's cherished AAA credit rating last April.
"Avoid 'Big Oil' at all costs," Moors explained to Oil & Energy Investor subscribers. "Those aren't companies that are weathering a crisis – those are companies in the middle of a crisis."
That's why Moors recently recommended a better way to profit from the oil market in 2016.
In fact, this particular stock lets you make money from crude oil prices without investing in oil at all.
Moors recommended this company four months ago. The stock price has rocketed more than 84% since then, and analysts predict it could soar another 81% in the next year.
Go here for more on Moors' free Oil & Energy Investor report on one of the best energy investments of 2016…
Like us on Facebook: Money Morning