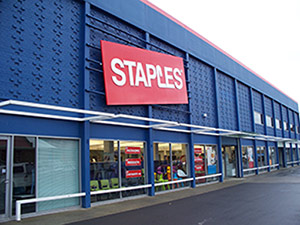 Here are some shocking stats…
Since 2011, Staples Inc. (Nasdaq: SPLS) has cut 16% of its full-time U.S. workforce — down to 44,000 from 53,000 employees five years ago.
During that same period, the company's annual sales declined a whopping 9% — down to $22.5 billion from $24.7 billion.
And more recently, the store's overall sales saw a 4% plunge in third-quarter 2016 alone – worse than the 3.6% decline analysts polled by Consensus Metrix in October projected.
Meanwhile, Staples' comparable sales plummeted 3% this past quarter. [Editor's Note: "Comparable sales" account for just a portion of a business' overall revenue.]
Don't Miss: Pyramid schemes are totally illegal… but Herbalife's still at it…
These dismal figures — exacerbated by the store's bidding war loss to acquire Home Depot Inc. (NYSE: HD) on May 8 — have many analysts now wondering, "will Staples go bankrupt in 2017?"
In fact, just yesterday on Nov. 17, FOX Business' Stuart Varney asked panelists on "Varney & Co." if the company should be placed on his "death watch" list.
Money Morning Technical Trading Specialist D.R. Barton, who's studied the trends of retail stocks in the "digital age" for nearly three decades now, offered up a surprising answer for the FOX Business host…
Is SPLS Doomed for Bankruptcy in 2017?