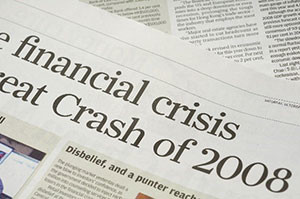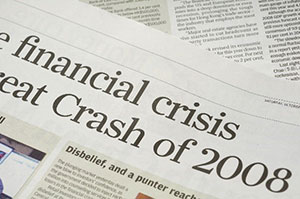 President-elect Donald Trump campaigned on an ambitious agenda to overhaul the many federal regulations currently in place...
Especially regulations that are hindering economic growth and harming the average American.
On Oct. 7, 2016, he said that "70% of regulations can go... it's just stopping business from growing."
To that end, one of Trump's top priorities is to dismantle some parts -- if not all -- of the Dodd-Frank Act.
What Is Dodd-Frank?
Dodd-Frank was passed in 2010 in the wake of the 2007-2009 financial crisis. It was hailed by its advocates as the regulatory answer to the excesses of the Big Banks that led to the financial crisis. The idea was to add mountains of new regulations to the banking industry to prevent misbehavior.
Under Dodd, the Consumer Financial Protection Bureau (CFBP) was born. It oversees financial products such as mortgages and gives regulators new powers over large nonbank financial companies.
Dodd also created the Financial Stability Oversight Council (FSOC). The council monitors the stability of the U.S. financial system by promoting market discipline and identifying and responding to emerging risks to the stability of the U.S. financial system.
Despite intentions, the law has many destructive shortcomings...
"[Dodd-Frank] was a monumental victory for the Too Big to Fail banks," said Money Morning Capital Wave Strategist and Wall Street Insights & Indictments editor Shah Gilani back in 2012. "It is 23 times longer than the 37-page Glass-Steagall Act, the sensible 1930s legislation that separated deposit-insured commercial banks from risk-taking investment banks and was aborted by Congress in 1999."
"All I'll say is that Dodd-Frank is really an attempt to put Humpty Dumpty (Glass-Steagall) back together again, with the biggest pieces missing..."
Trump's Right: Dodd-Frank Needs to Go
Instead of putting a leash on the Too Big to Fail Banks, Dodd-Frank has actually helped them get even bigger and more powerful...
For example, the legislation destroyed small community banks. Between July 2010 and the third quarter of 2013, the United States lost 9.5% of its small banks due to increased regulatory pressure from Dodd-Frank.
This is a problem because small banks provide services at the local level that larger banks do not, primarily small-business loans, mortgages, and farm loans, in addition to customer deposits. They also tend to be far more integrated into the communities they serve.
The loss of small banks makes it harder for local businesses to function, which throws sand in the gears of local economies, and, over time, the U.S. economy.
"What people don't understand is that destroying the smaller banks for the benefit of the Big Banks was the game," Gilani said.
In addition, the legislation is written such that its rules address a crisis after it has already occurred, rather than preventatively.
And the agencies it created are also flawed. The CFPB is funded directly by the Federal Reserve -- a clear evasion of the constitutional structure where Congress appropriates funds for executive branch operations. Indeed, on Oct. 11, 2016, a federal court of appeals ruled "that the CFPB is unconstitutionally structured."
The FSCO has been given extraordinary power to designate certain nonbank financial firms as systemically important financial institutions (SIFIs). In other words, it can create firms outside of the banking industry that are "too big to fail."
As Gilani put it, "Dodd-Frank isn't legislation; it's a comedy."
Indeed, Donald Trump intends to put an end to the Dodd-Frank farce. On May 17, 2016, Trump said, "Dodd-Frank has made it impossible for bankers to function... it makes it very hard for bankers to loan money, for people to create jobs, for people with business to create jobs. And this has to stop."
Here are three ways Trump could do away with the law once he takes office in January...
How Donald Trump Could Dismantle Dodd-Frank
Repealing Dodd-Frank in its entirety would be a long process -- much longer than could be achieved in his first 100 days. However, President-elect Trump will have a Republican-controlled Congress.
That means the executive and legislative branches can work together to approve big revisions to Dodd...
Way Trump Can Dismantle Dodd-Frank No. 1: Target the Volcker Rule
The Volcker Rule was meant to restrict big U.S. banks from making risky speculative bets with funds from their own accounts through proprietary trading, to prevent another 2008 financial crisis. Banks that were targeted by the rule, like Bank of America, Citigroup, and Goldman Sachs, were forced to stop a number of practices that fall under its restrictions, including proprietary trading. It also pushed banks to sell off certain securities such as collateralized loan obligations.
But on the downside, overly restrictive rules like Volcker have hurt market liquidity. It diminished the flexibility and profitability of banks' valuable, good market-making operations and placed them at a competitive disadvantage to firms not constrained by the rule.
For example, on Oct. 13, 2011, we noted that "14% of Goldman's investment banking revenue would be affected by the proprietary trading restriction." But since the rules restrict market-making, too, "52% of Goldman's investment banking revenue...would be affected." That is an increase of 38% in lost revenue. Firms like Goldman were forced to either shed their status as bank holding companies to evade the regulations, or to split off some of their investment banking operations.
Diminished liquidity means banks must charge more to connect buyers and sellers. People who need cash cannot as easily sell stocks at a moment's notice; mutual funds cannot buy and sell large blocks of securities without sending the market into gyrations.
Gilani said back in 2012 that "the Volcker Rule shouldn't exist at all."
Trump can make that happen, in conjunction with a Republican-controlled Senate...
First, he could execute an executive order, allowing him to set a policy without congressional approval -- meaning he could repeal the Volcker Rule completely or amend it to better fit his policy.
The second option is for the Senate to use a process called "budget reconciliation." This allows the Senate to pass a bill that bypasses the 60-vote majority - which it would presumably need to do as Republicans only hold 51 seats. But to do so, it must affect the federal spending, either up or down. That means the Senate could amend or repeal the Volcker Rule if it finds a way to increase or decrease the federal budget.
More on the Volcker Rule: Goldman Sachs Stock Price Can't Escape Volcker Rule Time Bomb
Now, here's a way for Trump to make a major change within his first 24 hours....
Way Trump Can Dismantle Dodd-Frank No. 2: Target the CFPB
As we said earlier, the CFPB's objective is to oversee financial products such as mortgages and give regulators new powers over large nonbank financial companies.
The CFPB's opposition states that it oversteps its authority while also failing to enforce regulations. For example, on one hand, House Financial Services Committee Chairman Jeb Hensarling (R-TX) said the CFPB "undoubtedly remains the single most powerful and lease accountable federal agency in all of Washington." On the other, Sen. Richard Shelby (R-AL) said in regards to the 2016 Wells Fargo scandal, "how many millions of unauthorized accounts does it take before the CFPB notices."
In September 2016, the Republican-led House of Representatives' Financial Services Committee passed legislation that would change the name and structure of the CFPB and create a five-member commission to govern it.
Republicans have also pushed for the agency to receive funds from Congress to make it accountable and to elected leaders. Both of these measures would greatly reduce the power of CFPB Director Richard Cordray. However, President Obama has blocked these efforts with veto threats.
President-elect Trump, though, could oust Cordray -- especially following the October ruling by a three-judge federal appeals court panel that found the agency's structure unconstitutional, thus giving grounds for the president to dismiss the director at will.
Trump may be able to shift the CFPB management structure so that instead of having a single, powerful dictator, it would operate under a slower-moving commission.
But there's also a way Trump can kill Dodd-Frank in its entirety, instead of the piecemeal methods we've talked about so far...