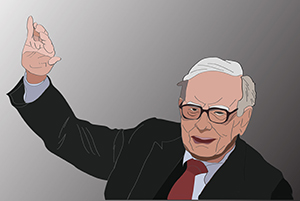 Social media outlets are currently awash with claims that 2016 was arguably a "dumpster fire year" for many folks - but it certainly was not bad financially for famed investor Warren Buffett.
Shares of Buffett's firm Berkshire Hathaway Inc. (NYSE: BRK.A; BRK.B) skyrocketed 20% in 2016, helping to boost the "Oracle of Omaha's" personal fortune by $12.3 billion thanks to his personal holdings in the company.
In fact, Buffett gained more than any other billionaire in the United States this year, Forbes.com reported Dec. 27. His net worth is now $74.2 billion - just $10 billion short of what the richest man in America, Bill Gates, is worth.
But what's perhaps more surprising than Buffett's massive wealth bump over the past 12 months is the very cause responsible for its occurrence...
Warren Buffett Gained Billions in the Wake of Trump's Win
You see, throughout this past election year, Buffett was a staunch outspoken ally of Democratic presidential candidate Hillary Clinton. He even appeared at various campaign rallies alongside the former secretary of state during her bid for the White House. There, Buffett challenged GOP candidate-turned-President-elect Donald Trump to release his tax records, promising he would do the same if the real estate mogul obliged.
Trending: Get the Best Investing Research Today to Grow Your Money
But despite the billionaire's frank democratic support and Clinton's eventual loss, Buffett scored most of his gains this year - some $7.8 billion - after Election Day.
In fact, Buffett's fortune rose $3.6 billion in the two days following Trump's win when Berkshire Hathaway stock jumped 6%.
This jump primarily had to do with Berkshire's stake in Wells Fargo & Co. (NYSE: WFC), which rose 5.4% on Nov. 9 alone. This spike in the embattled bank's shares added $1.7 billion to Buffett's fortune in the span of 24 hours.
Meanwhile, Berkshire could get even more money in the months ahead...