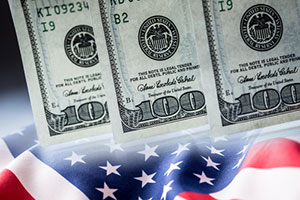 The Dow Jones Industrial Average today rallied by triple digits and was within striking distance of the psychological barrier of 20,000.
Meanwhile, the S&P 500 and the Nasdaq hit all-time highs thanks to a spike in technology and materials stocks. Eight of the major 10 S&P sectors were in the green today as investors weighed another round of earnings reports and the deregulatory efforts of President Donald Trump.
Let's look at the numbers from Tuesday for the Dow, S&P 500, and Nasdaq:
Dow Jones: 19,912.71; +112.86; +0.57%
S&P 500: 2,280.07; +14.87.; +0.66%
Nasdaq: 5,600.96; +48.01; +0.86%
Now, here's a look at today's most important market events and stocks, plus a preview of Wednesday's economic calendar.
DJIA Today: Dow Pushes Toward 20,000
Shares of TransCanada Corp. (USA) (NYSE: TRP) added more than 3% after President Trump signed an executive order to advance the Keystone XL Pipeline and the Dakota Access pipelines. The two pipelines had been disputed and delayed by the Obama administration. Shares of Energy Transfer Partners LP (NYSE: ETP), the operator of the Dakota Access projects, climbed over 4%.
Top Story: Top 10 2017 IPOs to Watch
Crude oil prices were still reacting to Friday's announcement by Baker Hughes Inc. (NYSE: BHI) that the number of U.S. production rigs jumped by their highest levels in four months. But the bigger oil price news this week was OPEC's first compliance meeting on Sunday (Jan. 22) since agreeing to a production cut on Nov. 30. But that's not the only reason oil prices are moving today. Here's more on that meeting and where the price of oil heads from here.
The WTI crude oil price today added 0.6%. Meanwhile, Brent crude gained 0.2%.
But the biggest story today is President Donald Trump's plans to slash regulations across the country.
In a meeting with auto executives this morning, Trump said that domestic environmental regulations are "out of control." Trump committed to reducing regulations in order to help reduce the cost of building manufacturing centers here in the United States.
Shares of General Motors Co. (NYSE: GM), Ford Motor Co. (NYSE: F), and Fiat Chrysler Automobiles NV (NYSE: FCAU) all posted gains on the day. GM added 0.8%; Ford rose more than 2%, and shares of FCAU surged more than 5%.
Prediction: Natural Gas Prices in 2017 Will Soar Double Digits
Money Morning Capital Wave Strategist Shah Gilani recently offered his approach for such big bank rollbacks.
Specifically, Gilani thinks it's easier said than done, but there is a way…
Stock Market News and Top Stocks to Watch Today: Jan. 24, 2017
Tuesday's U.S. Economic Calendar (all times EST)
MBA Mortgage Applications at 7 a.m.
FHFA House Price Index at 9 a.m.
EIA Petroleum Status Report at 10:30 a.m.
Two-Year FRN Note Auction at 1 p.m.
Five-Year Note Auction at 1 p.m.
Must Read – This Great Depression-era "Secret" Helped Transform Two Teachers into Millionaires: Donna and Dave R. were both teachers in Boston. But today they're retired millionaires who are also earning $10,000 a month in income. Their secret? Much of their wealth is due to a Great Depression-era "program" most have no idea exists. Full Story
Follow Money Morning on Facebook and Twitter