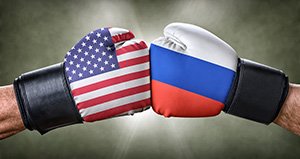 Twenty-six years after the Cold War and we find ourselves again on a path that could lead to war with Russia.
Today, G-7 member countries will finish a special two-day summit that will decide if further sanctions should be imposed on Moscow.
Representatives from Germany, France, the UK, Canada, Italy, Japan, and the United States gathered at the call by Italian Foreign Minister Angelino Alfano on April 9 to discuss a "dangerous military escalation" in Syria following the U.S. missile strike on April 7.
U.S. Secretary of State Rex Tillerson attended the conference but left early this morning to go to Moscow. As he embarked, Tillerson said it was "unclear whether Russia had failed to take seriously its obligation to rid Syria of chemical weapons," the Associated Press reported, "or had merely been incompetent." But he said the distinction "doesn't much matter to the dead."
The state secretary didn't disclose any details from the summit concerning Russian sanctions. But any additional restraints put upon Moscow by the global committee would keep in place those already imposed by former U.S. President Barack Obama in 2014 over the country's annexation of the Ukraine's Crimea region.
Russia - well aware of the G-7's focus, and just ahead of Tillerson's arrival - has issued its own dire threats in the meantime...
U.S. Could Find Itself in a "Real War" with Russia
Russia's London embassy claimed in a statement on Sunday that any decision by the G-7 nations to impose further sanctions on Russia "brings us to real war," The Guardian reported.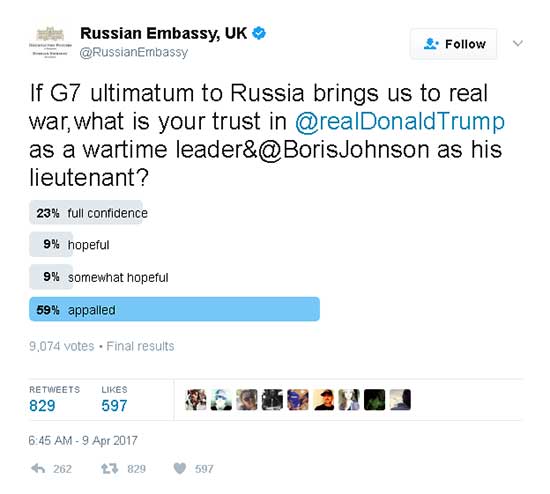 This threat followed a joint warning - also issued Sunday -- from Russia, Iran, and Syria. This statement claimed the U.S.' attack on a Syrian air base last week had crossed a "red line," reported Reuters that day.
The three countries then promised that any further attacks from the United States would be responded to with force.
And judging from the Russian embassy's "real war" threat, Moscow considers further sanctions a definitive attack.
Another report yesterday confirmed the physical likelihood of a U.S.-Russia war in the near future...
Must See: Trump's Secret Weapon Set to Foil China's Master Plan
A top NATO military officer said that "recent Russian naval activity in Europe exceeds levels seen during the Cold War," Reuters reported.
Both NATO and Kremlin forces have been slowly building up their physical presence in Poland and the Baltic states since the beginning of the year as dual "shows of military strength." As of April 3, more than 1,100 NATO troops -- 900 of them from the United States -- took up positions in Poland, which plans to buy $7.6 billion worth of Patriot air defense missiles to counter Moscow.
Russian forces in the area purportedly include a buildup of high-readiness combat forces that could invade the Baltic States in fewer than two days, according to the Lithuanian government's threat assessment report released on April 3.
Because of its geographical location, Russia would have the advantage in the area should Moscow and Washington go to war, the report claimed. "Currently, Russia is capable to conduct combat activities against the Baltic States with 24-48 [hours] notice."
Up Next
China thinks it can push the United States and its allies out of Asia altogether to secure its energy riches for itself.
Thanks to a small $6 U.S. defense contractor with top-secret technology, the Pentagon has a plan to stop China dead in its tracks. Click here for the full briefing.
Follow Money Morning on Twitter @moneymorning, Facebook, and LinkedIn.
Related Articles: