Wall Street's "advice" is always dubious at best, but when it comes to Apple stock price predictions, this group has an almost perfect record of failure.
I'm telling you this now because as Apple Inc. (Nasdaq: AAPL) prepares to report its Q2 earnings after the market close today (Tuesday, May 2), analysts are tripping over themselves to jack up their Apple stock price targets.
Starting in February, Wall Street has been hot for AAPL stock. According to FactSet data, 27 analysts raised their Apple stock price predictions in February, with just one lowering their price target.
In March, 31 analysts hiked their AAPL stock price targets versus just one price target reduction. In April, there were 25 increases in Apple stock price predictions and zero decreases.
That's usually a bad omen for AAPL stock…
The Truth About Wall Street's Apple Stock Price Predictions
Previous waves of price target increases have foreshadowed steep AAPL stock price declines.
Take what happened in late 2014 and early 2015, for instance. Starting in July 2013, Apple stock went on a 22-month run that produced gains of 135%. Wall Street didn't start adjusting its AAPL price targets until August 2014, more than a year later.
The analysts kept upgrading their Apple stock price predictions right on through July 2015. By that time, a decline was underway that shaved 33% off the AAPL stock price.
Now we're seeing Wall Street repeat the blunder.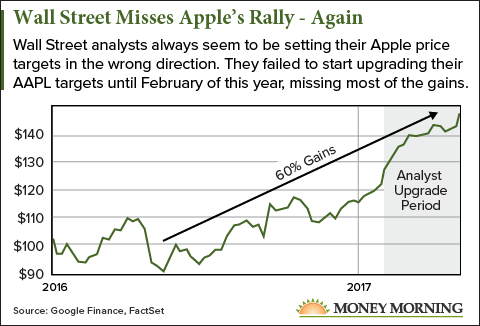 But back in the early part of 2016, when investors could have used a heads up about the gains to come, Wall Street was busy lowering their Apple stock price predictions. Way to go, guys!
The current wave of upgrades follows a 12-month run in which Apple stock has soared more than 60%.
From January through June of last year, analysts were furiously downgrading AAPL. In that six-month span, there were a total of 163 Apple stock price downgrades to just one upgrade. After that, Wall Street mostly stood pat while Apple stock went on another big run.
Must Read: Five Double-Digit Dividend Plays to Secure Your "Second Salary"
Any investors using these Apple price targets as a guide were ill-served indeed. They would have bought when the stock was at or near peaks and sold when AAPL was down.
And we know that analyst ratings have an impact on trading, because stocks often rise and fall on news of an upgrade or downgrade.
When it comes to Apple, investors would be better off doing the opposite most of the time.
And the biggest names on Wall Street are just as guilty – perhaps even more so – of getting Apple wrong…
An Apple Stock Prediction So Bad It Raises Questions