Many investors are looking back on 2017 as the year that they missed out on Bitcoin.
Bitcoin prices have surged from $963.66 per coin on Jan. 1 to $16,697.60 today, but those prices may look minuscule compared to where experts see the price of the cryptocurrency heading.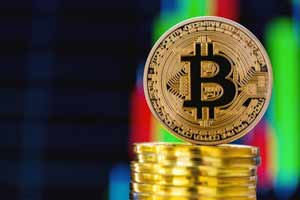 If you think you've missed out on the Bitcoin boom, we have two bullish predictions you have to see.
But before we get to that, we want to look back at the most important events of the year for the cryptocurrency.
To know where something is heading, you need to know where it has been.
These are the 12 days of Bitcoin that defined 2017...
Jan. 3: Bitcoin Price Tops $1,000
Bitcoin got off to a hot start at the beginning of 2017, topping $1,000 after opening the year at $963.66.
Bitcoin began to generate significant attention from mainstream financial media outlets, and price predictions began to flood Twitter Inc. (NYSE: TWTR).
March 10:  SEC Denies the Winklevoss ETF
With Bitcoin hovering just above $1,200, markets speculated that the U.S. government would finally introduce regulations that would legitimize cryptocurrency as a mainstream investment.
Learn How to Turn $500 into $1 Million: This Sunday school teacher's "retirement career" made him a millionaire. This book will teach you how you can do it too. Claim your FREE copy...
On this day, however, the SEC denied the application for a Bitcoin exchange-traded fund (ETF), a proposal brought forth by Tyler and Cameron Winklevoss.
March 28: SEC Turns Down SolidX Application 
A little more than two weeks after denying the Winklevoss Bitcoin ETF, the SEC doubled down on its stance.
This time, the SEC rejected an application for the SolidX Bitcoin Trust, an exchange-traded product that would have traded like a stock and tracked Bitcoin's price.
This was another blow to investors and Bitcoin enthusiasts, who hoped that U.S. regulators would provide greater legitimacy to the cryptocurrency markets.
At the time, Bitcoin prices were trading just above $1,000 per coin.
April 1: Japan Declares Bitcoin as Legal Tender
On April 1, Japan's Financial Services Agency enacted a law that officially recognized Bitcoin as a legitimate method of payment.
After months of debate, the law established capital requirements for Bitcoin exchanges and created rules around operations and cybersecurity.
This decision drew significant scrutiny in the wake of the Mt. Gox collapse.
On April 1, Bitcoin prices closed at $1,080.50 per coin.
July 3: Ronnie Moas Makes His First Bold Prediction
One of the top cryptocurrency analysts in the world today didn't even make his first call on Bitcoin until July 2017.
Ronnie Moas, of Standpoint Research, issued his first "Buy" recommendation for Bitcoin, with a price target of $50,000 by 2027.
In his first short-term projection, Moas said that Bitcoin could hit $5,000 within a year. At the time, this was considered a very bullish outlook given that Bitcoin traded at just $2,564.06.
July 10: Bitcoin Finds a Bottom
Bitcoin jitters and "bubble" talk picked up over the first two weeks of July.
Traders were speculating on the impact of the pending Segwit hard fork that was set for Aug. 1. The divide in the Bitcoin community centered on which version after the hard fork would better define the long-term vision of Bitcoin founder Satoshi Nakamoto.
Bears argued that it would accelerate volatility, and prices traded between $2,321.13 and $2,525.25 per coin.
Aug. 1: Bitcoin's Hard Fork Creates Bitcoin Cash (BCH)
Developers, miners, and investors have debated how to best scale Bitcoin for faster transactions and lower fees.
When everyone doesn't agree, a hard fork can be used to create a new coin.
On Aug. 1, a hard fork created Bitcoin Cash (BCH), and every Bitcoin owner received an equal amount of BCH. According to its website, Bitcoin Cash says it offers a reliable network that runs without congestion, as well allows BCH holders to "send money globally for pennies."
On Aug. 1, Bitcoin prices opened at $2,871.30 and closed at $2,718.26.
Sept. 4: China Cracks Down on ICOs
A little more than a week after markets speculated on China's interest in crypto, the nation stunned the world by freezing ICOs and ordering companies to return capital to investors.
The announcement was reminiscent of the 2013 ban by China on purchasing Bitcoin using the local yuan currency.
Video
The Top 5 Cryptocurrencies to Invest in Today
Seven regulatory groups issued a statement, saying that crypto tokens were "an unauthorized and illegal public financing activity."
The groups also compared cryptocurrencies to a pyramid scheme.
Bitcoin prices opened at $4,591.63 that morning, but they fell all the way to an intraday low of $2,946.62 on Sept. 14 thanks to the announcement.
Nov. 9: SegWit2x Cancellation
Bitcoin prices cratered during the weekend after Nov. 9 thanks to a surprise decision by backers of the so-called SegWit2x hard fork. Prices slid 20.25%, from $7,446.83 on Nov. 9 to $5,938.25 on Nov. 11.
Backers of the fork canceled their plans, arguing that they couldn't find enough support in the Bitcoin community.
This continued the debate over which version of Bitcoin - BTC or BCH - better fit the original vision of Nakamoto.
Nov. 28: The $10,000 Frenzy
In late November, the price of Bitcoin finally topped $10,000 for the first time on U.S. and Korean exchanges.
Though the price had topped this level in Zimbabwe, the five-figure price pushed the market capitalization to the verge of $200 billion.
Dec. 7: Coinbase Crashes After Bitcoin Prices Surge Past $19,000
Due to overwhelming demand, Coinbase experienced its second major outage in less than a week.
The New York Times reported that Coinbase struggled to keep up with the surge of interest and demand in the cryptocurrency space.
Since January, the number of users on Coinbase's platform more than doubled. To start the year, Coinbase had 5.5 million users, a number that has swelled to 13.3 million by Nov. 30.
It took Bitcoin 3,214 days for the price to go from less than a penny to $600.
It took 45 days for the price to go from $6,000 to $12,000.
It took just 38 hours and 13 minutes for Bitcoin to go from $12,000 to more than $19,000 on Coinbase.
Bitcoin prices closed at $17,899.70 for the day.
Dec. 10: Chicago Board of Trade Launches Bitcoin Futures
Yesterday, Bitcoin prices fluctuated between $13,226.60 and $15,850.60 ahead of Bitcoin futures being traded on the Chicago Board of Exchange (CBOE).
The CBOE has now established an opportunity for traders to take long and short positions on the cryptocurrency without having to own the underlying asset.
The CBOE was the first of multiple exchanges to announce plans for trading Bitcoin futures contracts. In addition, the Chicago Mercantile Exchange (CME), NASDAQ, and Tokyo Financial Exchange have all announced plans for similar derivative contracts.
Now that you're all caught up with the most important events of 2017 for Bitcoin, here's where prices could be headed in 2018...
Bitcoin Price Predictions for 2018
Join the conversation. Click here to jump to comments…
About the Author
Garrett Baldwin is a globally recognized research economist, financial writer, and consultant with degrees from Northwestern, Johns Hopkins, Purdue, and Indiana University. He is a seasoned financial and political risk analyst, with a focus on stocks, hedge funds, private equity, blockchain, and housing policy. He has conducted risk assessment projects for clients in 27 countries, and consulted on policy and financial operations for some of the nation's largest financial institutions, including a $1.5 trillion credit fund, a $43 billion credit and auto loan giant, as well as two of the largest Wall Street banks by assets under management.
Garrett joined Money Map Press as an economist and researcher in 2011, specializing in alternative strategies with an emphasis on fundamental and technical analysis.