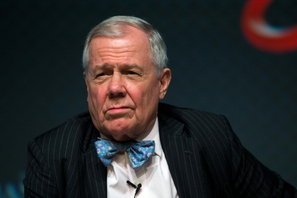 U.S. sanctions against Russia have unexpectedly produced a number of positive consequences for Moscow, according to legendary investor Jim Rogers.
You see, when former President Barack Obama instituted the sanctions back in 2014, they were designed in conjunction with Europe to punish Russian President Vladimir Putin for his annexations of Crimea and backing rebels in eastern Ukraine.
However, according to Rogers, these sanctions were nothing more than a "foolish mistake" that led Russia to become stronger and more self-sufficient...
"It's not the first time that history has changed by some foolish bureaucratic mistakes," said Rogers to Sputnik News on June 2. "America is shooting itself in the foot, making agriculture in Russia boom."
This result is permanent and will have lasting effects on the United States, according to Rogers. "Once the farmers learn how to do it - they will continue."
Indeed, agriculture has overtaken arms sales to become Russia's second-biggest export sector next to oil and gas, reported The Financial Times on April 19. In fact, Russia is now the world's biggest exporter of grains - all thanks to the U.S. sanctions, according to Rogers.
"In many ways the sanctions against Russia have helped Russia. It has made Russia an agricultural boom. It is a very, very strong growth industry right now," said Rogers.
"There are many unintended consequences that are good for Russia and bad for America."
Sign up for SMS so you never miss special events, exclusive offers, and weekly bonus trades.
And one of these consequences - perhaps the most important - is one we've warned you about before...
Moscow and Beijing Are Cozying Up for This Key Reason   
"[The sanctions] are pushing the Russians and the Chinese together," warned Rogers. "When you come to Moscow or St. Petersburg airport now the Chinese are everywhere."
We've been meticulously following the close relationship between China and Russia for years.
You see, China and Russia are colluding to shift away from dollar- and euro-based trade and revert back to a true gold standard.
Must See: This Great Depression-Era "Secret" Helped Transform Two Teachers into Millionaires. Read more...
"China and Russia have had enough of Western central bankers' clandestine gold price manipulation to prop up the U.S. dollar," we said in 2015, shortly after the sanctions were imposed. "Creation of a new gold market is just one way China and Russia aim to take down the U.S. dollar."
And now, with the rise of Russia's economy, they are closer than ever to doing just that.
If this gold-based trade expands to other large nations, it could cause a rush to safe-haven investments like the yellow metal.
But the smart investors - the ones who have been watching this trend as it unfolds - will buy up shares in the gold miners.
And Money Morning Executive Editor Bill Patalon - our champion stock picker and global trend expert - has identified one gold mining stock that is poised to soar as gold-based trade sweeps the globe.
"If you're going to buy a 'senior miner' in the gold sector, this is the stock you want to own," said Bill.
Check out the video below, where Bill shares with you how to play this "perfect storm" in gold with this stock right now. You don't want to miss this.
In the Private Briefing basket of 217 double- and triple-digit peak gain winners, this company and its high-profit shares really stand out. To learn how to get access to all of Bill's daily recommendations and analysis, just click here.
Follow Money Morning on Twitter @moneymorning, Facebook, and LinkedIn.