The Dow Jones and S&P 500 both closed at new all-time record highs Thursday on news that the European Central Bank could soon take action on monetary policy if continued weakness undermines growth in the bloc economy.
The markets are also still responding positively to the Republican surge on Tuesday that put the GOP in charge of both chambers of Congress for at least the next two years.
The S&P 500 Volatility Index (VIX), the market's volatility gauge, fell more than 1% on the day.
Today's Scorecard: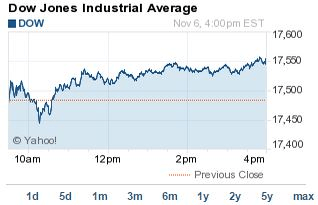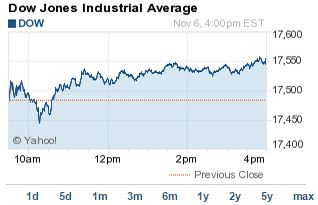 Dow: 17,555.47, +69.94, +0.40%
S&P 500: 2,031.21, +7.64, +0.38%
Nasdaq: 4,638.47, +17.75, +0.38%
What Moved Markets Today: Speculation on actions by the European Central Bank continues to dominate headlines. Investors are growing weary of ECB Head Mario Draghi's slow and teasing approach to addressing ongoing concerns about the near term in the EU economy. That said, investors seem sure that the ECB will act beyond rate cuts in the near future to shore up growth concerns.
Today's Most Notable Economic News: The U.S. jobless claim level hit a 14-year low this morning. The U.S. Department of Labor reported that weekly applications for unemployment last week slipped 10,000 to a seasonally adjusted level of 278,000. The news is extremely positive ahead of Friday's all-important October jobs report, which is slated for release at 8:30 tomorrow morning.
Now check out the day's most important market notes:
Now our experts share some of the most important investment moves to make based on today's market trading – for Money Morning Members only:
How to Profit from a Stronger U.S. Dollar: The U.S. Federal Reserve plans to wind down its asset purchases this month, but Japan and the United Kingdom are still buying, full swing. Meanwhile, the European Union is just looking to get started with its stimulus efforts. That's sent the U.S. dollar into a major run-up, with the euro and yen on the losing side. This adds up to a global currency conflict. And Money Morning Resource Expert Peter Krauth, a 20-year commodity guru and portfolio advisor, has identified a very rare, very lucrative opportunity…
How to Profit from Unrest in Hong Kong: Most investors haven't got a clue about what Hong Kong's riots represent, let alone the investment potential that's being unleashed there. As a result, they're going to miss out on some really terrific profit opportunities. But before we get to the best way to play this, understanding what's driving the unrest is key…