Spotting the best oil stocks to buy now is tricky for many investors because of the current low-price environment. Oil prices have fallen more than 45% in the last year. For the past three months, they've hovered at their lowest levels since the financial crisis.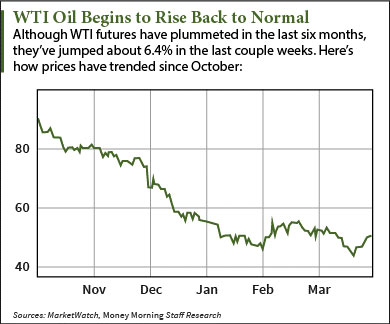 Oil stocks have slumped along with them. BP Plc. (NYSE ADR: BP) is down 24.9% since oil's peak last July. Hess Corp. (NYSE: HES) has fallen 30.8% over the same time period. ConocoPhillips (NYSE: COP) has tumbled 9.5% in the last three months alone.
Despite all the bearish news, there are still plenty of profitable gems in the oil sector. And as you know, a market pullback gives us a time to buy.
Strong oil stocks will rebound this year as WTI and Brent prices head higher. Money Morning Global Energy Strategist Dr. Kent Moors sees oil trading in the low $80s range by the end of 2015.
Until then, we'll see more mergers, acquisitions, and consolidation among oil companies while prices are low. The sector promises to be a lot leaner by the time summer rolls around.
"We will see a restructuring of assets throughout the upstream (production) to midstream (transport and soon export) to downstream (refining and distribution) process," Moors explains. "All of these will hand us some very nice investment opportunities."
Here's a roundup of the best oil stocks to buy now as prices stabilize in 2015…
Best Oil Stocks to Buy Now
Enbridge Energy Partners LP (NYSE: EEP) transports oil from western Canada and the Bakken formation. The master limited partnership (MLP) accounts for 17% of total U.S. oil imports. While other energy companies have seen share prices fall alongside oil prices, EEP has gone in the opposite direction. Its stock has shot up 32.1% over the last year and Yahoo! Finance analysts project growth estimates of 32.7% by next year. The company's most attractive quality is its dividend – which is typical of MLPs. EEP's payout has increased every year since 2006 and currently stands at 6.29%. Here's more on EEP and the benefits of MLPs…
Royal Dutch Shell Plc. (NYSE ADR: RDS.A) is a multinational oil corporation headquartered in the Netherlands. As of 2014, Shell is the second-largest company in the world by revenue behind Wal-Mart Stores Inc. (NYSE: WMT). It produces about 3.1 million barrels of oil a day and operates in all three segments of the production process – upstream, midstream, and downstream. Shell sits on a hefty $200.5 billion and offers an impressive yield of 6.12%. Moors considers RDS.A a solid dividend play while oil prices start rebounding…