Millions of Americans are set to tune into the CNN debate on Wednesday, Sept. 16. This marks a second scrap among the GOP's hotly contested field of 2016 presidential candidates. The first GOP debate was held by FOX News on Aug. 6 and drew 24 million viewers - making it the highest-rated primary debate in television history.
Just like in that instance, the CNN debate features both "undercard" and "prime-time" debates.
Here are the candidate lists and when to watch...
CNN Debate Preview: The Candidates
An "undercard" debate will be held at 6 p.m. and includes the four candidates who failed to reach top 10 in the polls:
Former U.S. Sen. Rick Santorum, R-PA
Former New York Gov. George Pataki
Louisiana Gov. Bobby Jindal
U.S. Sen. Lindsey Graham, R-SC
The "prime-time" CNN debate kicks off at 8 p.m. It features the 11 top candidates:
Donald Trump
Ben Carson
Carly Fiorina
Former Florida Gov. Jeb Bush
Wisconsin Gov. Scott Walker
Ohio Gov. John Kasich
New Jersey Gov. Chris Christie
Former Arkansas Gov. Mike Huckabee
U.S. Sen. Ted Cruz, R-TX
U.S. Sen. Rand Paul, R-KY
U.S. Sen. Marco Rubio, R-FL
Why is there a "plus one" to the top ten candidate field featured during prime time?
The Republican National Committee (RNC) and CNN were forced to change their debate rules after a recent, significant shift in the polls...
CNN Debate Preview: The Poll Data (and the Fiorina Phenomenon)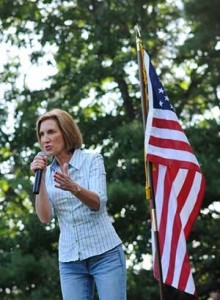 CNN selected its top 10 candidate field for the prime-time slot by averaging the results of polls taken between July 16 and Sept. 10.
Enter Carly Fiorina - the 11th candidate. The former Hewlett-Packard Co. (NYSE: HPQ) boss scraped her way into the main event after a stellar performance in the "undercard" FOX News debate on Aug. 6. Since then, she has surged in the polls.
Originally, eight out of the 10 polls CNN averaged to determine the GOP's top 10 were conducted before the first debate, which put Fiorina out of the top 10. Fiorina's camp argued CNN should weigh recent polls more heavily than older ones - and it worked.
The rules for inclusion were amended in late August such that any candidate who made the top 10 in an average of polls conducted after the FOX News debate would be allowed to debate in the later time slot. Fiorina is the only candidate to move from the bottom six to the top 10 in the post-debate average.
Here's a look at the averages for qualifying polls conducted after the Aug. 6 debate through Sept. 10:
1) Trump: 27.8%
2) Carson: 14%
3) Bush: 9.2%
4) Cruz: 7.4%
5) Walker: 5.6%
6) Rubio: 5.4%
7) Fiorina: 4.4%
8) Huckabee: 4.4%
9) Kasich: 3.6%
10) Paul: 3.2%
11) Christie: 2.8%
12) Perry: 1.08%
13) Santorum: 0.8%
14) Jindal: 0.56%
15) Pataki: 0.44%
16) Graham: 0.28%
The overall average used by CNN includes results from the following polls: a FOX News poll released July 17; a Washington Post/ABC News poll released July 20; a CNN/ORC poll released July 26; a Quinnipiac University poll released July 30; a NBC News/Wall Street Journal poll released Aug. 2; a Monmouth University poll released Aug. 3; a FOX News poll released Aug. 3; a Bloomberg Politics poll released Aug. 4; a CBS News poll released Aug. 4; a FOX News poll released Aug. 16; a CNN/ORC poll released Aug. 18; a Quinnipiac University poll released Aug. 27; a Monmouth University poll released Sept. 3; and a CNN/ORC poll released Sept. 10.
CNN Debate Preview: What Everyone's Talking About Going In
[mmpazkzone name="in-story" network="9794" site="307044" id="137008" type="4"]
A fresh Washington Post/ABC poll released Sept. 14 shows Trump (33%) and Carson (20%) leading the GOP field. Former Secretary of State Hillary Clinton (42%), Sen. Bernie Sanders (I-VT) (24%), and Vice President Joe Biden (21%) - who hasn't yet thrown his hat into the ring - top the Democrat field.
Over the weekend, Donald Trump lampooned sky-high CEO pay, calling it "disgraceful." While Trump didn't offer details of how to change pay, he said the current system of corporate boards being a check on CEO compensation isn't working because most board members are close with the top boss. [Editor's Note: Here's a look at Donald Trump's five-part economic plan that was just unveiled on Aug. 26...]
Ben Carson has been busily supporting the idea of a flat tax system. That would mean billionaires and minimum wage workers would be taxed at the same rate, which he suggests should be between 10% to 15%.
Last week, former Texas Gov. Rick Perry became the first casualty of the now 16-person GOP race. "Today I am suspending my campaign for the presidency of the United States," Perry announced to conservative activists in St. Louis, Missouri on Friday, Sept. 11.
Former Virginia Gov. Jim Gilmore, who participated in the Aug. 6 undercard debate, did not meet the criteria for inclusion in Wednesday's CNN debate. He failed to meet the requirement to average 1% support in any three polls released during the two-month window.
After Wednesday, the next GOP debate will be held on Oct. 28 on CNBC. Candidates will be determined based upon updated poll numbers.
Tweet the author @TaraKateClarke, or leave a comment on Money Morning's Facebook page.
The Politics Behind $250 Million: Super PAC campaign contributions for the 2016 presidential race totaled a whopping $250 million by through the end of August. Here's how much cash each candidate has raked in...
Related Articles:
[mmpazkzone name="end-story-hostage" network="9794" site="307044" id="138536" type="4"]