The best high-yield investments today aren't where some investors have typically looked first…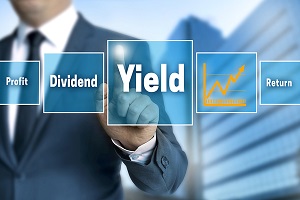 Bond yields are in a historically low period and have been for some time. Even if the U.S. Federal Reserve raises interest rates toward the end of the year or early in 2017, rates will still be historically on the low end.
The stock market is reaching highs, yes. But that's not without the risk of a pullback.
So how do investors find the best high-yield investments?
By looking for stocks with high dividend yields, good steady profits (both historical and projected), and a record of steady payouts. This is a low-risk way to get high-yield investments.
We've assembled a round-up of Money Morning's top high-yield investments. We've divided them by sector below.
Best High-Yield Investments to Consider Today
Technology: One of the Best Sectors for High-Yield Investments
For many years, people reflexively thought of technology stocks as scrappy start-ups that almost by definition didn't have dividends. After all, weren't they pouring money into innovative products and expansion?
Well, no longer. Many tech stocks have impressive dividends, making them great high-yield investments.
One of Money Morning Defense & Tech Specialist Michael A. Robinson's favorite stocks is tech giant Apple Inc. (Nasdaq: AAPL). With a current dividend of $2.28, the yield is 2.12%. The company reintroduced a dividend in 2012 and has hiked the payout three times since then. Given the company's cash hoard – $216 billion – more dividend increases are expected.
Another Robinson tech favorite is Verizon Communications Inc. (NYSE: VZ). Although many people may associate VZ with telephone service, its services are much broader. First, it's a leading provider to the Internet of Everything (IoE), with its wireless and high-speed Internet access. Second, it offers services to support devices in the education, utilities, consumer products, health monitoring, and other sectors. VZ has increased its dividend every year for the past nine years. It currently stands at $2.26, making the yield 4.30%. How's that for high yield?
Trending: Buy This "New Money" Stock and Get "Old Money" Rich
Consumer Products: The Home of Dividend Aristocrats
A dividend aristocrat is a company with strong and steady growth, a robust dividend, and a history of consecutive and steadily increasing payouts.
In consumer products, Procter & Gamble Co. (NYSE: PG) is a leader. It has been operating for 179 years, and, with sales of more than $70 billion annually, it is one of the world's largest consumer products firms.
Suredividend.com reports that just 17 companies have increased dividends every year for the past half century. PG is one of them. The dividend was raised in 2016, marking the 60th time investors have enjoyed not just a healthy dividend, but an increasing one.
PG is also a good investment for the future because of the steady nature of its products. They sell year in and year out, no matter the economic conditions. People always need its products.
PG's current dividend is $2.68, making the yield 3.03%.
Another consumer goods sector stock for high-yield investments is PepsiCo Inc. (NYSE: PEP). It's low risk because of its steady dividends, but also because of its diversification. It's not just soda; it's also the home of Quaker Oats, Cheetos, and Lay's potato chips.
Pepsi has hiked its dividend every year for 43 straight years. Not only is that an impressive record, but the dividend is higher than those of other consumer goods sector companies by 0.46%.
Johnson & Johnson (NYSE: JNJ) is one of the most stable high-yield stocks you can buy. The consumer goods, pharmaceutical, and medical device giant has one of the lowest standard deviations in the stock market among the blue chips. At a current dividend of $3.20, JNJ yields 2.68%. Its dividend payout has grown 7% over the last three years.
And JNJ is in a great growth sector. Healthcare spending is forecast to rise nearly 11% in 2016 according to S&P Global Market Intelligence. That's much more robust that the S&P 500's projected 3% growth.
Finally, Money Morning Chief Investment Strategist Keith Fitz-Gerald recently updated investors on one of the best-performing stocks he's recommended to his Money Map Report subscribers (who have five triple-digit winners on the books right now). It's dividend powerhouse Altria Group Inc. (NYSE: MO).
Altria has returned 360.03% since Fitz-Gerald first told subscribers about it. The company just hiked its dividend again – for the 50th time in 47 years. Altria now yields 3.64%. Get the full story on investing in Altria here – plus you'll find out how you can get Fitz-Gerald's latest dividend grower pick…
The Oil Sector: The Best High-Yield Investment Returns More Than 7%
When you think "oil sector," your thoughts might turn to Big Oil. Exxon Mobil Corp. (NYSE: XOM), say, or Chevron Corp. (NYSE: CVX). Both of them do have great dividends.
But they don't meet Money Morning 's standard for the best high-yield investments, because the investment case for the stocks themselves just isn't there. Global Energy Strategist Dr. Kent Moors points out that Big Oil in general is saddled with enormous debt and currently can only manage a very low return on drilling operations.
But Moors does have a stock that meets the best high-yield investments criteria. It's Genesis Energy LP (NYSE: GEL). GEL is a master limited partnership (MLP) based in Houston. MLPs get approximately 90% of their revenue from oil and gas. Midstream ones, the category GEL falls into, are links between producers and refiners. They store and transport oil.
Their position makes earnings stable. As long as oil is being pumped, they will benefit from their storage and transportation capabilities without bearing any risk from fluctuating prices.
"Midstream service providers are a company category I'm tracking for early indications of a bounce," Moors noted earlier in the year, "namely selected master limited partnerships and related holdings of pipeline, terminal, and related assets."
Thomson Reuters reports that analysts target GEL's one-year price per share at $41.25. That's more than a 12% rise from the current price of $36.72.
The gains may be understated, but the dividend growth projections are not. Right now Genesis provides a dividend of $2.76, meaning the current dividend is a whopping 7.64%. That makes it one of the best high yield-investments.
Money Morning believes that the company's yearly payout could increase to at least $2.97, offering further upside on the stock.
Up Next: This Is One of the Most Powerful Profit Opportunities to Ever Exist – and Here Are Six Stocks to Buy to Play it
Follow  Money Morning on Facebook and Twitter.