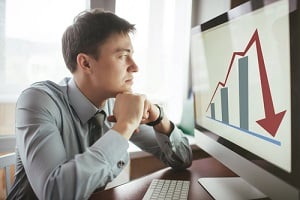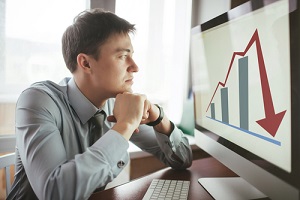 When there's a stock market drop, many investors feel like selling is their only option.
They see their investments losing money - so they panic. And it's only natural for people to want to stop their losses.
But rather than surrendering to the markets during a sell-off, Money Morning Chief Investment Strategist Keith Fitz-Gerald shows investors an alternative strategy. [Editor's Note: Click here to receive free money-making ideas from our investing gurus, like Fitz-Gerald.]
With his approach, investors can actually turn a stock market drop into gains.
Fitz-Gerald's strategy is used by some of the most legendary traders in the world, including George Soros and Paul Tudor Jones. Both traders manage billions of dollars in capital.
Plus, Fitz-Gerald's strategy can be implemented into your portfolio easily. You too can profit even when the markets are falling.
Here's how to profit during a stock market drop...
How to Make Money During a Stock Market Drop
On Aug. 29, traders all over the world were glued to their computer screens or TVs.
Federal Reserve Chair Janet Yellen was making one of the most important speeches of her career in Jackson Hole, Wyo. The topic was monetary policy.
She chose her words carefully, knowing they'd have the power to move markets.
Don't Miss: One of the Best Defense Stocks to Buy Now
Meanwhile, two multibillionaires were also tracking Yellen's every word, looking for hawkish indicators. That's because ahead of her speech, they had taken record put positions in the S&P 500. George Soros' management fund had doubled the amount of S&P 500 puts it owns to $839 million, according to Fitz-Gerald. At the same time, Paul Tudor Jones' management fund also more than doubled its S&P 500 puts to $1.7 billion, Fitz-Gerald found.
Both Soros and Jones were setting up for a stock market drop. They speculated that Yellen would argue for a September rate hike - and that the markets wouldn't like it.
While Yellen did have a hawkish tone in her speech, she stopped short of calling for a rate hike in September. And that stock market drop never came...
But the tactics both billionaire traders used demonstrate the importance of hedging. If there had been a big stock market drop after Yellen's speech, both of them would have made a fortune.
You see, S&P 500 put options are just one way to profit when markets fall. And Soros' and Jones' bets, while large, made up just a small portion of their overall investing capital. According to Fitz-Gerald, placing only small portions of your capital into any one investment is "part of a disciplined investment strategy."
Normally, Fitz-Gerald does not recommend following the moves of billionaires. They have a completely different risk tolerance, as well as a level of access retail investors like us can't achieve. But you can use similar strategies when the time is right to profit from a stock market drop, according to Fitz-Gerald.
Let's take a closer look at this strategy now...
The Easiest Strategy to Profit During a Stock Market Drop
Stock Market Drop Strategy No. 1: Buy a Reverse Fund or ETF
[mmpazkzone name="in-story" network="9794" site="307044" id="137008" type="4"]
Fitz-Gerald recommends these investments as the simplest and least risky ways to profit when the markets are falling. Specifically, you might want to take a position in the Rydex Inverse S&P 500 Strategy Fund (MUTF: RYURX), or pick up shares in the ProShares Short S&P 500 ETF (NYSE Arca: SH).
The RYURX fund closely tracks the inverse daily performance of S&P 500. So when big, blue-chip stocks are taking a beating, you can profit. To give you an example of how this fund performs under market duress, let's look back at the stock market correction earlier this year.
During the period between January and mid-February, the S&P 500 fell about 10%. But the RYURX actually gained 10% during this same period.
The ProShares Short ETF is similar to the RYURX, but isn't a mutual fund. The ETF still tracks the inverse daily performance of the S&P 500. Like RYURX, this ETF also gained about 10% during the stock market correction earlier this year.
Keep in mind, both investments are only meant for short-term positions and shouldn't be held longer than necessary.
Stock Market Drop Strategy No. 2: Buy Index Options
Fitz-Gerald also recommends using options to play a downswing in the markets. For instance, you could buy put options on the S&P 500 itself, like we mentioned earlier. Or, if you want to get even more aggressive, you can consider buying calls on the VIX Volatility Index (INDEXCBOE: VIX) to play volatility.
For instance, if you were betting on another stock market correction early next year, you might consider a call option on the VIX with an expiration date on Feb. 15, 2017. For a strike price of $20, you'd be paying about $270 for one contract based upon current bids. But if the VIX did spike in early 2017 to say... 30, you'd bank $2,700. That scenario isn't improbable. During the correction last year that we mentioned earlier, the VIX peaked at 28.14 on Feb. 11.
"I generally favor either 'at the money' or just 'inside the money' in situations like this," Fitz-Gerald said, "but that's just me. Your risk tolerance and expectations are obviously different, so take that into consideration when thinking about a trade like this one, especially with options."
The Bottom Line: Investors can profit from a stock market drop by buying put options or by buying call options on the VIX. They can also buy reverse funds or certain ETFs that track the inverse performance of major indices, like the S&P 500. We recommend only using a small portion of your overall investing capital when playing against the markets.
Up Next: Get the Best Investing Research Today to Grow Your Money