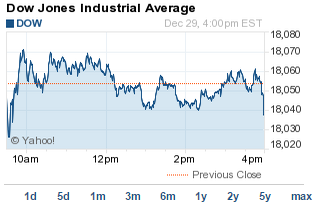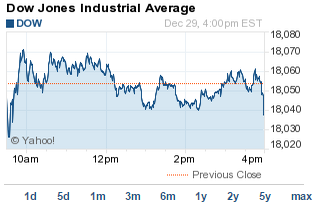 DJIA Today: The Dow Jones Industrial Average fell 15.5 points on Monday, as markets reacted to falling energy prices and renewed geopolitical concerns about the debt situation in the nation of Greece. Despite oil prices rising this morning over Libyan supply problems, prices fell sharply in the afternoon. This dragged the energy sector down in the process.
The S&P 500 Volatility Index (VIX), the market's fear gauge, jumped nearly 5% on the day.
Let's take a look at today's scorecard.
Dow Jones: 18,038.23, -15.48, -0.09%
S&P 500: 2,090.58, +1.81, +0.09%
Nasdaq: 4,806.91, +0.05, +0.00%
What Moved the Markets Today: The Dow Jones today fell slightly as oil prices reversed sharply from this morning's jump. A fire in Libya's largest export facility destroyed two days of the nation's production. However, the markets shrugged off supply concerns and priced tumbled during the session. Today, WTI oil fell roughly 2% to $53.64 per barrel for February delivery. Brent oil was down 1.5% to $57.94 in afternoon trading. Meanwhile, a snap election in Greece is likely as the nation's parliament rejected the government's presidential candidate. This has spurred concerns that the leftist Syriza party could rise to power. The faction aims to eliminate most of the nation's debt and cancel terms of the nation's bailout from the European Union and International Monetary Fund. The National Bank of Greece (NYSE ADR: NBG) slipped more than 8.5% on the day.
Here's a breakdown of today's other top stories and stock performances:
Now our experts share some of the most important investment moves to make based on today's market trading – for Money Morning Members only:
Three Tech ETFs That Will Double Your Money: Money Morning Tech Specialist Michael A. Robinson is forecasting a strong year for stocks – and especially tech stocks – in 2015. And folks who pick the "right" profit plays can do even better than the market. Here's how to grab those market-trouncing gains with three profit plays that appear tepid on their face, but are actually high-octane claims on the hottest slices of Silicon Valley growth…

Three Scary Tech Stocks to Avoid in 2015: Just because 2015 will be a strong year for tech stocks doesn't mean every single one will be a winner in the New Year. With that in mind, let's take a look at 2015's three worst tech stocks. Tread carefully, though – their numbers may terrify you…
One Stock That Will Profit from a New, Breakthrough Medical Direction: Modern medicine, for all of its sophisticated drugs, complex gadgets, and amazing surgical procedures, rarely cures anything. It treats. It manages. It postpones the inevitable. But return a patient to normal, optimal health? Rarely. So when an innovation comes along that can effect a complete and permanent remission of disease or restore damaged organs to a pristine state, it should cause your keenest investing instincts to perk up and pay attention…