Don't trust investment advice from Goldman Sachs Group Inc. (NYSE: GS).
The banking giant often bestows its "wisdom" on retail investors with such vehicles as Goldman's Conviction Buy List, as well as its quarterly chartbook updates.
But although Goldman carries a lot of weight on Wall Street (probably too much), it often sprinkles these tidbits around with the intent to mislead.
In the past, Money Morning has looked at several Goldman transgressions that show just how dangerous it can be. Such antics as the "warehouse shuffle" and the manipulation of gold prices are designed to earn Goldman profits at everyone else's expense.
That's how Goldman Sachs earned the nickname "Vampire Squid."
But the average investor needs to be especially wary of Goldman's stock advice. Remember, this is the place that referred to its clients as "Muppets" back in 2012.
Goldman's Conviction Buy List is the bank's most high-profile form of stock advice to the masses. Whenever a stock is added or dropped to the Conviction Buy List, it makes news.
Why the Conviction Buy List Is Dangerous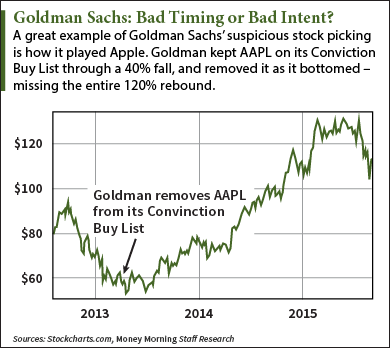 Of course, the Goldman Conviction Buy List is also notoriously wrong.
Back in April 2013, when Goldman removed Apple Inc. (Nasdaq: AAPL) from the Conviction Buy List, Money Morning documented its suspiciously poor performance.
Apple stock remained on the Conviction Buy List through nearly all of a 40% decline. After Goldman removed AAPL from the Conviction Buy List, the stock shot up 120%.
But the Conviction Buy List is not the only source of bad stock advice from Goldman Sachs. The less visible recommendations from its quarterly chartbook are even more treacherous.
The quarterly chartbook recommendations derive from Goldman's one-year price targets. Each quarter, Goldman's Chief U.S. Equity Strategist, David Kostin, will publish an update to its outlook. The stocks with the greatest potential gains from their current price are touted (with the help of the mainstream financial media) as the "most oversold stocks."
Here's why investors who buy stocks based on the Goldman chartbook soon regret it…