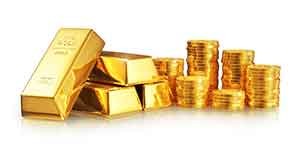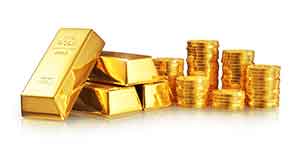 Since Money Morning Global Credit Strategist Michael Lewitt told readers to start buying gold in November 2015, gold prices have climbed over 24%. If you missed out on those gains, don't worry. We see gold prices soaring even higher from here...
In fact, we project gold prices will hit $5,000 per ounce by 2020. That's why today, we wanted to make sure our readers knew the three best strategies on how to buy gold in 2016.
But before we get to the three best gold-buying strategies, we want to make sure our readers know why gold prices could surge 271% in the next four years...
Why Gold Prices Still Have Tremendous Upside
The global economy has many underlying issues that could send us back into a recession, and that's the biggest reason gold prices will continue higher. And during times of economic uncertainty, gold is viewed as a safe haven.
Editor's Note: Protect yourself from the next stock market crash with these three investments...
Right now, the Dow Jones Industrial Average, Nasdaq, and S&P 500 are all trading at record highs. The problem, though, is that there is no reason for investors to be so optimistic.
U.S. GDP growth in July was just 1.2%, compared to expectations of 2.6%. Commercial bankruptcies increased by 34% in June year over year, and personal income only climbed 0.02% in June.
Also, global central banks have dangerous policies that are triggers for an economic collapse. Negative interest rates, a policy used in Japan (the world's third-largest economy), are what Lewitt calls a last-ditch effort to stimulate an economy.
These types of policies encourage banks to lend out more money by central banks charging a fee to deposit cash. But according to The Wall Street Journal, citizens in countries with negative interest rates are actually saving more money because they don't have faith in their economies.
All of these issues are leading up to a stock market crash. And according to Money Morning Trading Specialist D.R. Barton, the next crash will be massive...
"Before we go much higher, and given all the 'wandering' we've endured, the next downward elevator the market catches will deliver a ride as deep and violent as the post-Brexit vote plunge we saw in late June," Barton said on Aug. 9.
So when the markets correct themselves, investors will be piling into gold. That's why we're bringing you the three best strategies for how to buy gold today, so you can beat the next rush...
How to Buy Gold in 2016: 3 Must-Know Strategies
How to Buy Gold in 2016, Strategy No. 3: Physical Gold
The most direct way to own gold is buying physical coins and bars.
"My view is that if you want to invest in gold, invest in gold," Lewitt said. "I prefer to buy gold coins, which can be done with any number of reputable dealers. I like the one-ounce American Eagles, stored within reach."
The weight, content, and purity of gold American Eagles are guaranteed by the U.S. government. Investors can confidently purchase these coins knowing American Eagles contain the amount of gold stated.
And because of volatility in the markets, investors have been pouring money into these coins in 2016...
From January to August, 462,500 gold American Eagles have been sold. That's up 9.7% from last year.
Before investing in physical gold, investors need to account for the expense of storing and protecting it. Also, dealers charge a fee on top of the spot price (the price of what one ounce of gold is selling for right now).
But Money Morning Resource Specialist Peter Krauth has a suggestion to limit your gold buying expenses: Buy in bulk. When you buy in bulk, gold dealers will often offer discounts.
If you don't want to own physical gold, though, there are two more strategies that let you profit from the precious metal...
How to Buy Gold in 2016, Strategy No. 2: Gold ETFs
If you want to invest in gold but don't want to personally store the precious metal, gold exchange-traded funds (ETFs) are a great alternative.
"If you want to own it in the form of a security for any reason, I recommend the Central Fund of Canada Ltd. (NYSEMKT: CEF) or the Sprott Physical Gold Trust ETV (NYSE Arca: PHYS)," Lewitt said.
The Central Fund of Canada holds gold and silver in a secure location for investors. There are no transactions or sales taxes, which makes CEF cheaper than buying physical gold. CEF also trades just like a stock, which makes it very easy to buy and sell shares.
Trending: One Billion Reasons Why This Company Is Good for Another 100% Profit
CEF opened this morning at $14.19 per share and is up 42.45% over the last 12 months.
Sprott Physical Gold Trust is similar to the Central Fund of Canada, but Sprott holds most of its assets in gold. PHYS also lets unitholders with a certain amount invested to redeem their units for physical gold bullion on a monthly basis.
PHYS opened this morning at $11.15 and is up 22.19% over the last 12 months.
Lewitt also said that SPDR Gold Trust ETF (NYSE Arca: GLD) is a third gold ETF to buy, but it's more speculative than CEF or PHYS.
How to Buy Gold in 2016, Strategy No. 1: Mining Stocks
You won't always make money piggybacking off of the trades of billionaires. But it's good to know what they are doing to determine if it fits with your investment strategy.
And one of the biggest investors in the world, George Soros, invested in a gold mining company in Q1.
In Q1, Soros purchased 19.4 million shares ($263.7 million worth) of Barrick Gold Corp. (USA) (NYSE: ABX). Barrick produces and sells gold and copper. It conducts mining and exploration activities from the United States to Saudi Arabia.
You see, mining stocks can be profitable because of one simple reason: supply and demand. The more demand there is for gold, the more money companies like Barrick make.
And according to the World Gold Council, demand is booming...
For the first six months of 2016, investor demand for gold increased 127% year on year.
Over the last 12 months, ABX has provided shareholders with market-beating gains of 172%. In comparison, SPDR Dow Jones Industrial Average ETF (NYSE Arca: DIA), an index fund that mimics the performance of the Dow, has returned just 9.06%, as you can see in the chart below.
We shared with you earlier our $5,000 prediction for gold. But gold isn't the only precious metal poised for huge gains. We also have a silver price prediction that you can't miss...
Follow us on Twitter @moneymorning and like us on Facebook.