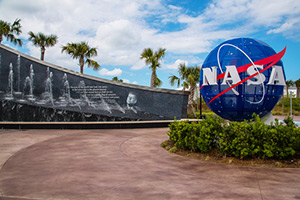 President-elect Donald Trump's mantra to "Make America Great Again" means these American companies that aren't doing so hot financially could see a dramatic pick-up in revenue as soon as this year...
For example, Trump pledged to spend $1 trillion to fix America's crumbling infrastructure. This has fueled the hopes of U.S. construction and utility companies that they'll get a piece of this trillion-dollar investment.
Likewise, Trump's appointment of key Silicon Valley influencers, like billionaire investor Peter Thiel, to the executive committee of his transitional team has tech industry experts enthusiastic about how the incoming administration could bolster their business growth.
All of this would be welcome by companies that have seen falling sales figures and gloomy growth outlooks. Here are three U.S. companies that could get a financial shot in the arm from a Trump administration...
American Companies That Trump Could Save, No. 1: Caterpillar Inc.
Caterpillar Inc. (NYSE: CAT), an American manufacturer of construction and mining equipment, had dismal sales figures before the election of Trump.
In early October, its retail numbers were down 12% from three months prior in July. November saw an even more depressing decline - down 17% from August. After the election, however, the company began to see positive results from the "Trump bump" to the infrastructure industry.
In fact, CAT stock has jumped more than 10% since Nov. 8 - from $83.75 to $93.57.
And the Trump bump is only going to get stronger for the industrial equipment giant...
That's because U.S. companies like Caterpillar stand to receive a huge benefit from Trump's $1 trillion infrastructure plan - assuming it passes through Congress.
Trending Now: The Best Stocks to Buy for January 2017
Money Morning Capital Wave Strategist Shah Gilani suggests that investors play to win with infrastructure stocks like CAT. "I like Caterpillar Inc. for their dividend yields and because they are proven winners," Shah said on Dec. 28. CAT yields 3.29%.
While Trump's infrastructure spending policies could handily boost companies like Caterpillar, these next corporations could be thanking Trump for completely different reasons...
[mmpazkzone name="in-story" network="9794" site="307044" id="137008" type="4"]
 American Companies That Trump Could Save, No. 2: Wells Fargo & Co.
After the election, bank stocks rose sharply as investors bet on stronger growth and less regulation following Donald Trump's victory.
Wells Fargo & Co. (NYSE: WFC) saw its share price surge more than 25%  in the month following the election - from $45.54 on Nov. 8 to $57.28 on Dec. 8.
The company - which is still struggling to overcome its employee sales scandal - could be depending on Donald Trump to save it in 2017 by undoing an act signed into law by President Obama...
You see, Trump's transition website calls Dodd-Frank, the reform law that addresses key regulation guidelines for big banks, "a sprawling and complex piece of legislation" that he will "dismantle."
Should Trump scale back Dodd-Frank, the relief on the regulatory front for big banks could lead the way for significant growth in the industry - and for some more than others...
"Such potential relaxing of restrictions could indirectly benefit larger banks to a disproportionate degree, including Wells Fargo," reported Barron's on Nov. 10.
American Companies That Trump Could Save, No. 3: Oracle Corp.
American cloud-computing company Oracle Corp. (NYSE: ORCL) has struggled to keep up with rivals Salesforce.com Inc. (NYSE: CRM) and Amazon.com Inc. (Nasdaq: AMZN) Web Services (AWS). Oracle's cloud-computing services grew a mere 6% to $175 million in the fiscal second quarter compared to AWS, which soared 55% to $3.23 billion in the same time period.
As a result, Oracle has seen its share price slip over the past six months. ORCL stock dropped from $40.86 in July 2016 to $38.40 in December - a fall of 5.9%.
But Trump's campaign promises give the tech giant hope...
The president-elect touted lower corporate taxes on the campaign trail, which, if enacted, would help Oracle keep costs low enough to compete with its rivals. Oracle CEO Safra Catz told investors on Dec. 15 that in view of possible changes to the U.S. corporate tax system, there was a higher likelihood of favorable tax impacts for Oracle.
Catz has also joined the executive committee of Trump's transitional team, where she will advise the President-elect while remaining at the company in the process.
"If [Trump] can reform the tax code, reduce regulation, and negotiate better trade deals, the U.S. technology industry will be stronger and more competitive than ever," Catz said in a statement to Recode Dec. 10.
BONUS American "Company" that Trump Could Save...
While not a "company," another group that stands to benefit from Trump as president is NASA.
Trump's campaign suggestions - like more deep space exploration and less climate science - may cause the space agency to see a rebound in 2017.
NASA (National Aeronautics and Space Administration) saw its rocket program, Constellation, slashed by President Obama in 2010. The project had employed 500 NASA civil servants and nearly 2,000 contractors in Huntsville, Ala. After President Obama cut the program, only 500 NASA employees kept their jobs.
The president-elect voiced his disdain several years back for the way the current administration treated the space agency...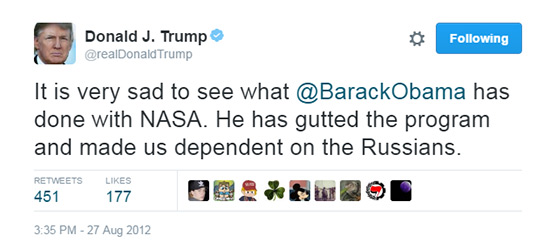 Now, Americans are waiting to see who Trump chooses to lead NASA. This decision will be a key indicator of the agency's direction for the next four years.
And it looks like Trump is already off to a good start...
Trump's recent appointment of Alabama Senator Jeff Sessions already has the press excited about the future of NASA...
"Sessions has heavily influenced the makeup of the transition team for the National Aeronautics and Space Administration, with many of those appointed favoring greater emphasis on manned exploration missions to the moon and deeper into the solar system," reported The Wall Street Journal on Dec. 13.
NASA is not a publicly traded company, but investors looking to benefit from the future success of the program should keep an eye on advanced technology companies Lockheed Martin Corp. (NYSE: LMT) and Boeing Co. (NYSE: BA) - both of which are top suppliers of NASA equipment.
Editor's Note: In the wake of the "death" of the American car company, one surprising brand is bringing us "better ideas." And these ideas mean huge profits for investors. Find out why this American icon is poised to be the single-most innovative car company in the United States - if not the world - here.