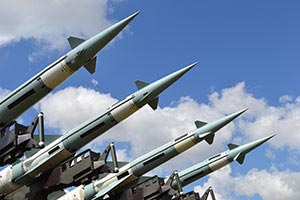 The Dow Jones news today is a projected a 57-point decline after the U.S. military launched at least 50 missiles toward an airfield in Syria.
Let's look at the numbers from Thursday for the Dow, S&P 500, and Nasdaq:
Dow Jones: 20,662.95; +14.80; +0.07%
S&P 500: 2,357.49; +4.59; +0.19%
Nasdaq: 5,878.95; +14.47; +0.25%
Today's market highlights:
President Trump launched the first military strike of his presidency. The airfield targeted is believed to be the location from where the Assad regime launched a chemical weapons attack earlier this week.
On Thursday, the Dow gained 14 points on news that weekly jobless claims have now remained below 300,000 for 109 consecutive weeks. According the U.S. Labor Department, the number of Americans seeking benefits fell to 234,000 for the week, well below analyst expectations.
Markets are looking for insight into the meeting between President Donald Trump and Chinese President Xi Jinping over bilateral trade and other issues between the world's two largest economies.
A stronger U.S. dollar has pressured gold prices in recent trading days, but the U.S. military strike has driven investors overnight to safe-haven assets.
U.S. unemployment rate remains at 4.7% as the labor market remains strong and near full employment.
Must See: This small $6 U.S. defense firm with a new top-secret technology could help the Pentagon stop a Chinese sneak attack dead in its tracks. Read more...
Here's a look at today's most important market events and stocks, plus a look at Friday's economic calendar.
What's Ahead for the Dow Jones Industrial Average Today
Dow Jones futures are sliding on concerns about increased geopolitical instability after the United States launched a missile attack on the Syrian military. In a public statement last night, President Trump said Assad's military used a deadly nerve agent to kill "men, women, and children" and called the attack "barbaric." Officials say that President Trump informed Russia ahead of its military strike.
The missile strike overshadows today's upcoming announcement by the U.S. Labor Department on the state of the American labor market and President Donald Trump's meeting with Chinese President Xi Jinping.
The U.S. Federal Reserve is in focus as New York Fed Chair William Dudley prepares to speak on the "The State of Financial Regulation and the Potential for Reform" in Manhattan this afternoon. Deregulation has been on the mind of traders following the failure of Republicans to repeal and replace the Affordable Care Act. Markets have rallied in recent months on the hopes the Trump administration will be able to push through financial and energy deregulation and corporate and income tax reform. However, many are concerned that Republicans may not be able to push through the Trump agenda later this summer.
Meanwhile, there is a stunning development happening in Washington. On Wednesday, President Trump's economic advisor Gary Cohn told a group of U.S. senators that he supported a policy change to radically reshape Wall Street. In fact, such a policy change could be a massive headache for his former firm, Goldman Sachs Group Inc. (NYSE: GS). Cohn supports a re-imposition of the Glass-Steagall Act- an idea the two main political parties support - but that the country's top banks loathe. Money Morning Capital Wave Strategist Shah Gilani explains the impact of this potential change... and more importantly, how Trump can deregulate the economy without causing a market crash. Learn more, right here.
Crude oil prices have been ticking higher despite concerns about U.S. crude inventory levels hitting a record high last week. Traders will be looking to Baker Hughes Inc. (NYSE: BHI) for the weekly rig count to gain clues into whether U.S. production is likely to rise in April.
The WTI crude oil price today added 0.58%. Brent crude gained 0.36%.
But the big news comes from renowned hedge fund investor and financial markets expert Jim Rogers. The financial expert predicted President Trump will cause a "global financial meltdown." How does Rogers think the financial meltdown will it happen? We answer that question, right here.
Don't Miss: How a 26F Program Can Save Your Retirement
Stocks to Watch Today, April 7, 2017:
In another blow to the Affordable Care Act, Aetna Inc. (NYSE: AET) announced that it will exit the individual insurance market in Iowa starting next year. Companies like Aetna are concerned that even though the Republicans may not be able to pass healthcare reform this year, the political party could strip financial subsidies from the exchanges. The company is also considering its options in states like Delaware, Nebraska and Virginia.
Shares of Comcast Corp. (Nasdaq: CMCSA) rose after the company unveiled a wireless service with its own unlimited data plan. The company is the first cable provider to enter the industry with unlimited talk, text, and data. The bundle will help the company compete against Verizon Communications Inc. (NYSE: VZ), AT&T Corp. (NYSE: T), T-Mobile US Inc. (Nasdaq: TMUS), and Sprint Corp. (NYSE: S).
In deal news, Sunoco LP (NYSE: SUN) announced plans to sell 1,110 convenience stores to the Japanese conglomerate that owns 7-Eleven stores. The deal is designed to help Sunoco move away from retail and focus instead on its fuel supply operations. Shares of SUN stock gained more than 20% on the news.
In earnings news, shares of WD-40 Co. (Nasdaq: WDFC) fell more than 4.1% after the company fell well short of Wall Street quarterly expectations. The company reported earnings per share (EPS) of $0.87 on top of $96.72 million in revenue. Analysts had projected EPS of $0.90 on top of $99.80 million in revenue.
No major U.S. companies report earnings on Friday.
Today's U.S. Economic Calendar (all times EDT)
Employment Situation at 8:30 a.m.
Wholesale Trade at 10 a.m.
New York Federal Reserve President William Dudley speaks at 12:15 p.m.
Baker Hughes Rig Count at 1 p.m.
Consumer Credit at 3 p.m.
Up Next: Grow Your Wealth Effortlessly with These Five High-Yield Stocks
Follow Money Morning on Facebook and Twitter.