Just when it looked like we could take a breather from the Strait of Hormuz, all attention is back on Iran.
There are three reasons for this - all happening within the last week:
First was Tehran's successful launch of a satellite, viewed by all in the region as being for military intelligence.
Second, in his toughest talk to date, Iranian Supreme Leader Ayatollah Ali Khamenei voiced defiance to Western sanctions and pledged open retaliation if they are instituted.
Finally, last Thursday, U.S. Secretary of Defense Leon Panetta expressed concern that, if matters continue, Israel could attempt an air-strike takeout of Iranian nuclear facilities within a month. Iran has been frantically moving essential components of its nuclear program underground to withstand such an attack.
All of this is, once again, leading to a rise in crude oil prices.
What's more, the EU decision to stop importing Iranian crude starting July 1 will cripple any chance Tehran has to combat escalating economic and political turmoil at home.
Yet Khamenei's defiant tone during his Friday prayer meeting speech indicates that Iran's religious leadership will not wait for the system to unravel.
And that is what makes this both a full-blown and an intensifying crisis.
Brinksmanship in the Straits of Hormuz
So what's being done?
Washington has little - leverage, save its ability to temper an immediate escalation by Israel (leverage the U.S. can still apply, at least for the moment). It also has some indirect influence on what the E.U. does.
Meanwhile, Saudi Arabia also is a wild card. It will not tolerate a nuclear Iran.
And yes, there are ample indications that American and Israeli intelligence have concluded Iran will achieve the ability to develop nuclear weapons in the next 18 to 24 months.
Some elements of that process will be available earlier, but remember: A weapon is of little value unless it can be controlled and delivered. The logistical and infrastructure considerations need to be in place first.
Yet with such an inevitable conclusion staring them in the face, the West has decided to embark on a risky path...
The target here is not the nuclear project at all (over which there is less and less outside control). Instead, it has become about creating massive domestic instability to bring down a regime.
Now, this is not about ending the theocracy. With or without Mahmoud Ahmadinejad as president or Ali Khamenei as supreme leader, Iran will remain a Shiite-dominated country. Religion decisively controls politics, and the clergy oversees the society.
The West is seeking a more moderate application of what will remain the Iranian cultural reality.
However, as the brinksmanship intensifies, so will the price of crude oil. Tehran, in this dangerous game of international chicken, really only has one card to play - the Strait of Hormuz.
There has been much misinformation circulated about the strait. Here are the facts.
On any given day, 18% to 20% of the world's crude oil passes through it.
According to the Energy Information Administration, the Strait's narrowest point is 21 miles wide; however, the width of the shipping lane in either direction is just two miles, cushioned by another two-mile buffer zone.
Of greater significance, though, is the fact that most of the world's current excess capacity is Saudi. (This is the oil that can be brought to market quickly to offset unusual demand spikes or cuts in supply elsewhere.) And, unfortunately, Saudi volume must find its way through the same little strait.
If we're unable to access the Saudi excess, that loss guarantees the global market will be out of balance. That will intensify the price upsurge - an upsurge that is already happening.
Now for the question I'm being asked several times a day in media interviews...
Just how bad can it get?
$200 Oil and $6 at the Pump
If Iran closes the Strait of Hormuz, crude oil prices will pop by between $30 and $40 a barrel... within hours.
Despite the excess storage capacity in both the U.S. and European markets and the contracts already at sea, oil traders set prices on a futures curve.
In a normal market the price is set at the expected cost of the next available barrel. During times of crisis, on the other hand, that price is determined by the cost of the most expensive next available barrel.
Should the strait remain closed for 72 hours, oil trading will push up the barrel price to $180 in New York, and closer to $200 in Europe.
Now let me put this in perspective for you...
A $1 rise in the price of crude translates into a 3.6-cent rise in the cost at the pump. Within the first week of the strait closure, therefore, pressures in the retail gasoline market will push the price to an average of $6 a gallon.
After one week!
There's no doubt that this will paralyze economic recovery on both sides of the Atlantic. (Delivery costs on everything will go up, and diesel prices will rise quicker than gasoline.) This is apparently what Khamenei has threatened.
All energy options will be on the table, from alternative energy to tapping Canadian oil sands (and approving pipelines to transport it south), moving from gasoline to compressed natural gas for vehicle fuel, and a range of other possibilities.
Of course, none of these options can move quickly enough to stave off collapse.
Now, there is no guarantee any of this is going to happen. But the uncertainty is moving oil up today. And the uncertainty will remain in the market as we come closer to July 1.
That gives us some space to develop the investor's reaction to events.
What the Iranian Crisis Means for Investors
Nothing happens until the beginning of July on the European oil embargo, but the markets are hardly going to wait that long.
I am off to London for meetings on the crisis at the end of this month, followed by the annual session of the royal chartered Windsor Energy Group at the castle of the same name, and then on to Scotland for a presentation at the U.K. Energy Policy Center. This crisis will be the center of attention at all these get-togethers, and I will be taking readers of Oil and Energy Investor along with me.
So how, as investors, do we respond to this?
I think it requires a rebalancing your portfolio, as well as revising your exposure to both corporate dividends and the commodity value of oil and gas.
As we move forward, I will be outlining some aspects of that strategy here. If you're looking to benefit from specific stock recommendations, please join my Energy Advantage subscribers.
To learn more about Energy Advantage click here.
Related New and Articles:
Here Are 10 "One-Click" Ways to Earn 10% or Better on Your Money Every Quarter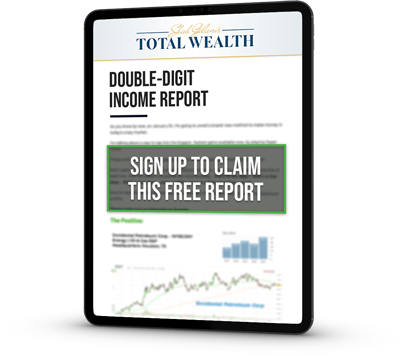 Appreciation is great, but it's possible to get even more out of the shares you own. A lot more: you can easily beat inflation and collect regular income to spare. There are no complicated trades to put on, no high-level options clearances necessary. In fact, you can do this with a couple of mouse clicks – passive income redefined. Click here for the report…
About the Author
Dr. Kent Moors is an internationally recognized expert in oil and natural gas policy, risk assessment, and emerging market economic development. He serves as an advisor to many U.S. governors and foreign governments. Kent details his latest global travels in his free Oil & Energy Investor e-letter. He makes specific investment recommendations in his newsletter, the Energy Advantage. For more active investors, he issues shorter-term trades in his Energy Inner Circle.