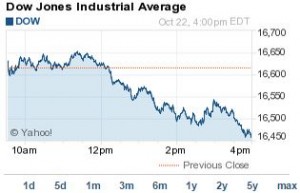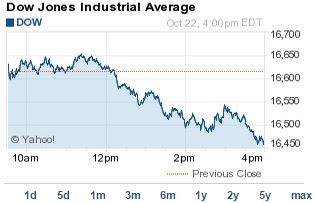 U.S. stock markets slumped Wednesday afternoon after a sell-off of two important bellwether companies and a shooting at the Canadian Parliament in Ottawa spooked investors. The Dow Jones today dropped 153 points, while the Nasdaq fell 36 points. The S&P 500 Volatility Index (VIX) jumped 14% on the day, ending its three-day streak of double-digit declines.
Today's scorecard:
Dow: 16,461.32, -153.49 (-0.92%)
S&P 500: 1,927.11, -14.17 (-0.73%)
Nasdaq: 4,382.85, -36.63 (-0.83%)
What moved the markets: The Dow Jones slumped when investors diched shares of Boeing Co. (NYSE: BA) after the company beat earnings and raised its earnings forecast. Boeing registered an 18% increase in quarterly profits. However, analysts raised new concerns about rising costs of the airline manufacturer's 787 Dreamliner. The Nasdaq turned downward after Biogen Idec Inc. (Nasdaq: BIIB) slipped more than 5% on news that sales of its new multiple sclerosis drug, Tecfidera, fell short of analyst expectations.
Most notable economic news: Today's small uptick in the Consumer Price Index (CPI) will make investors wonder when the U.S. Federal Reserve will act on interest rates. But one economic story that fell under the radar was the announcement by Fifth Street Asset Management to postpone its initial public offering. The $6 billion credit-asset management firm said that increased volatility and unsettling market conditions – fueled by geopolitical trouble in Europe and China, the African Ebola outbreak, and other concerns – led it to pull the IPO. With a slew of additional IPOs on the horizon, analysts will wonder if some companies follow Fifth Street's lead.
Now here's a breakdown of today's other top stories and stock performances:
Now for three of today's best profit opportunities from our investing experts – for Money Morning Members only (Not a Member? Sign up now – it's free):