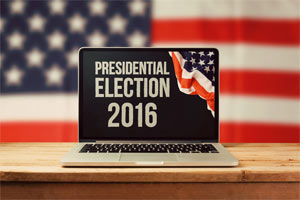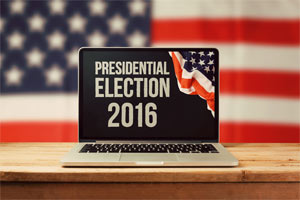 It's a tight presidential race.
According to the latest IBD/TIPP tracking poll released this morning (Tuesday), Democratic presidential candidate Hillary Clinton leads rival GOP candidate Donald Trump 43% to 42% among likely voters in a two-way race.
That means if Clinton wins, it won't be by a landslide.
Don't Miss: My (Bold) 2017 Oil Price Forecast - and Today's Most Profitable Energy Play
But Trump isn't just trailing the former secretary of state in the latest (and final) national poll today...
Google Shows Clinton Dominates U.S. Searches on Election Day
Trump is also behind Clinton in Google searches across the United States.
Data released by Alphabet Inc. (Nasdaq: GOOG, GOOGL) this morning shows Clinton dominates search in 30 states, including in the battleground states of Florida and Pennsylvania.
The world's No. 1 search engine also reported that "race issues" is the top Trump-related search topic, followed by "immigration" and "abortion."
As for Clinton, "abortion" is the top-searched issue, followed by "immigration" and "race issues."
And altogether, Google has seen an incredible 233% more searches regarding "how to vote" than it did compared to the same period before the 2012 presidential election.
Google is also reporting some rather interesting "top-searched terms" for the presidential election today, including:
When is the presidential election?
Who did Taylor Swift vote for?
Are Bill and Hillary still married?
Now, here's a look at the top-searched terms for each candidate on Election Day -- including one question that seems to suggest Clinton's secretly a Republican...
Clinton Wins Google Search, Though Some Suspect She's a Republican
Here are the most popular search terms related to Hillary Clinton on Election Day 2016:
Who is going to win the election, Trump or Hillary?
How many emails did Hillary delete?
Why vote for Hillary?
Is Hillary Clinton Republican?
And here are the most popular search terms related to Donald Trump on Election Day 2016:
Who is going to win the election, Trump or Clinton?
Where is Trump right now?
Can Trump win the presidency?
Why should I vote for Donald Trump?
Why do people like Trump?
Up Next
The entire 2016 presidential election has been unique, Google search terms aside. After all, Hillary Clinton is the first woman to be her party's elected presidential candidate. And Donald Trump, who is also his party's elected nominee, has never held public office.
But Money Morning Technical Trading Specialist D.R. Barton doesn't think all this "uniqueness" is a good thing.
He says the last thing the markets need right now is mass uncertainty.
Here's a look at how the election is weighing on Wall Street, and why you shouldn't worry about it... yet...
Related Articles: