The S&P 500 and Dow Jones Industrial Average rose Monday to close at record highs, with tech shares leading the surge. Shares of Intel Corp. (Nasdaq: INTC) jumped 2.3%, while International Business Machines Corp. (NYSE: IBM) gained 1.85%.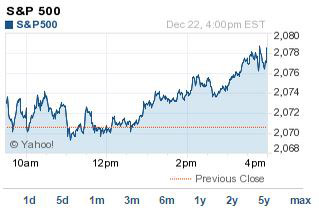 The S&P 500 Volatility Index (VIX), the market's fear gauge, plunged more than 7.5% on the day.
Today's Scorecard:
Dow: 17,959.44, +154.64, +0.87%
S&P 500: 2,078.54, +7.89, +0.38%
Nasdaq: 4,781.42, +16.04, +0.34%
What Moved the Markets Today: Energy stocks slumped again this afternoon on news that Saudi Arabian ministers refuse to slash production. Shares of Chesapeake Energy Corp. (NYSE: CHK) plunged more than 7.25% on falling oil prices. But the decline in energy prices is an ongoing boon for airline stocks. Shares of Southwest Airlines Co. (NYSE: LUV) rose more than 2.7% this afternoon, while Virgin America Inc. (Nasdaq: VA) jumped more than 2.8%.
Now check out the biggest stories from the stock market today:
Now our experts share some of the most important investment moves to make based on today's market trading – for Money Morning Members only:
Three Tech ETFs That Will Double Your Money: Money Morning Tech Specialist Michael A. Robinson is forecasting a strong year for stocks – and especially tech stocks – in 2015. And folks who pick the "right" profit plays can do even better than the market. Here's how to grab those market-trouncing gains with three profit plays that appear tepid on their face, but are actually high-octane claims on the hottest slices of Silicon Valley growth…
Three Scary Tech Stocks to Avoid in 2015: Just because 2015 will be a strong year for tech stocks doesn't mean every single one will be a winner in the New Year. With that in mind, let's take a look at 2015's three worst tech stocks. Tread carefully, though – their numbers may terrify you…
One Stock That Will Profit from a New, Breakthrough Medical Direction: Modern medicine, for all of its sophisticated drugs, complex gadgets, and amazing surgical procedures, rarely cures anything. It treats. It manages. It postpones the inevitable. But return a patient to normal, optimal health? Rarely. So when an innovation comes along that can effect a complete and permanent remission of disease or restore damaged organs to a pristine state, it should cause your keenest investing instincts to perk up and pay attention…