Unfortunately for brick-and-mortar retail stores, the clock is ticking.
In fact, more retail stores have closed this year than during the entire 2008 financial collapse... and they aren't slowing down.
These retailers can thank Amazon.com Inc. (Nasdaq: AMZN) for their unfortunate demise.
Amazon is "eating the retail world," MKM Partners analyst Rob Sanderson wrote on July 7 in a note to clients.
His chart shows just how powerful the e-commerce leviathan has become over the past few years...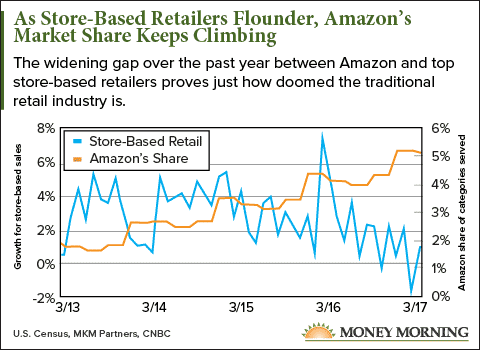 The median growth rate for the top 20 U.S. retailers, such as Wal-Mart Stores Inc. (NYSE: WMT) and Target Corp. (NYSE: TGT), was only 2.4% in Q4 2016, 0.8% during Q1 2017, and is forecast to drop 0.2% in the next quarter.
Meanwhile, Amazon's stock has gained over 33% in the past 12 months, and shares are up about 29% in 2017.
Related: The "Retail Ice Age" Investment Strategy That Everyone Is Missing
In other words, Amazon is the "best long-term growth story available to investors today," according to Sanderson.
And Amazon's share of retail sales across the United States in key categories - sporting goods, clothing, personal care, and electronics - will only continue to accelerate from here, he added.
Amazon's surge in growth, combined with its skyrocketing share price, is "becoming large enough to make an impact," said Sanderson. "This [trend] does not end well for traditional retailers and many will go the way of Borders and Circuit City, leaders in the first two large categories disrupted by Amazon.com [books and electronics]."
Circuit City filed for Chapter 11 bankruptcy protection in 2008. Borders followed suit in 2011.
Indeed, Amazon's growing market share is a huge threat to the retail industry - both in-store and online. According to Fortune, Amazon accounts for over 34% of U.S. online sales.
And brick-and-mortar retailers can expect no relief from the online giant. According to the same report, Amazon is forecast to see its online market share grow to about 50% by 2021, thanks to its popular Prime membership and invasion of different markets, like pharma and grocery.
How to Play Amazon Now
There are two ways to profit off of Amazon's success, according to Money Morning Chief Investment Strategist Keith Fitz-Gerald. Keith has long been bullish on AMZN stock, even though it comes with a hefty price tag.
"Longer term, there's no question you want to own shares of Amazon," said Keith on April 10. "In fact, Amazon may well be the only company in the world today that you can buy today and expect to hold for the rest of your investing lifetime."
However, AMZN stock is not cheap. Amazon currently trades at over $997 a share - just a hair away from $1,000. "[At that price] you can either buy 100 shares or a really nice house in the competitive San Francisco Bay area," said Keith. "Normally I'd suggest a Direct Stock Purchase plan as a way around this problem, but Amazon doesn't offer one at the moment."
As a second option, "Consider buying just a few shares at a time," recommends Keith. "Heck, buy even one if that's what you can afford. Then, throw away the proverbial key."
Editor's Note: "Must-have" companies backed by Unstoppable Trends are a cornerstone of Keith's wealth-building strategy. But there's another type of investment he wants Money Morning Members to know about. It's one of his favorites, a kind of "desert island fund" he'd buy if he had to park his money in one place, "retire" from civilization for 20 years, and come back to a pile of money. Click here to learn more...
Follow Money Morning on Twitter @moneymorning, Facebook, and LinkedIn.
Up Next for You...
After the Whole Foods Deal, Amazon Is Eyeing This No. 1 Grocer
Amazon Is Opening Up Retail Stores, but Not for the Reason You May Think
Our Chart Shows What Would Have Happened If You Invested $1,000 in the Amazon IPO