For Aug. 10, here's a look at the Dow Jones Industrial Average today, earnings reports, the top stock market news, and stocks to watch based on today's market moves…
How Did the Stock Market Do Today?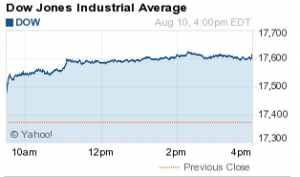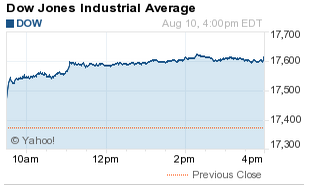 Dow Jones: 17,615.00; +241.62; +1.39%
S&P 500: 2,104.13; +26.57; +1.28%
Nasdaq: 5,101.80; +58.25; +1.16%
The Dow Jones Industrial Average today soared more than 240 points as oil prices pushed the energy sector higher and the basic materials sector jumped more than 3% on the day. All ten S&P sectors were in the green today. Shares of Chevron Corp. (NYSE: CVX) jumped more than 2.5% on the day, while Exxon Mobil Corp. (NYSE: XOM) added more than 2.4%.
Shares of Apple Inc. (Nasdaq: AAPL) were up 3.6% after the company announced plans to unveil its latest iPhone and Apple TV during the week of Sept. 7. Apple stock has fallen by $11 since July 21, the day before the firm reported its quarterly results. Apple stock has been weakened by irrational expectations on Wall Street – but we're sticking to a $200 price target for the company. Here's a breakdown on how you can make 74% on Apple stock.
The S&P 500 Volatility Index (VIX), the market's fear gauge, dropped 7.5% on the day.
Top Stock Market News Today
Stock Market News: The Dow Jones rallied on Monday after investors showed confidence thanks to increased M&A activity and optimism that China will introduce new stimulus measures in order to boost its economy. The nation reported weak manufacturing numbers this morning, but economists anticipate the nation's central bank will likely loosen monetary policy. Meanwhile, Greece is in the final stages of ensuring its bailout package will keep the nation's economy afloat.
Oil Moves: Oil prices snapped a three-day losing streak as traders were optimistic about demand. WTI crude futures for September added 2.1% to hit $44.79 per barrel. Meanwhile, Brent oil prices gained 3.2% to $50.21 per barrel.
On Tap Tomorrow: On Tuesday, investors will focus on the NFIB Small Business Optimism Index and an update on wholesale trade. Companies reporting earnings tomorrow include Fossil Group Inc. (Nasdaq: FOSL), Cree Inc. (Nasdaq: CREE), Symantec Corp. (Nasdaq: SYMC), Myriad Genetics Inc. (Nasdaq: MYGN), and Computer Sciences Corp. (NYSE: CSC).
Stocks to Watch: PCP, BRK.A, BABA, RNF, UAN, TWTR
What Investors Must Know This Week
Follow us on Twitter: @moneymorning