For Oct. 12, 2015, here's your top stock market news and stocks to watch based on today's market moves…
How Did the Stock Market Do Today?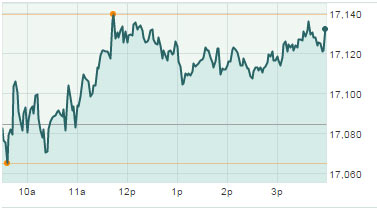 Dow Jones: 17,131.86; +47.37; +0.28%
S&P 500: 2,017.46; +2.57; +0.13%
Nasdaq: 4,838.64; +8.17; +0.17%
The Dow Jones Industrial Average today (Monday) gained 47 points in a day of light trading as investors kept their focus on a falling U.S. dollar and the growing expectation that the U.S. Federal Reserve will not raise interest rates in October or December. With just one major company reporting earnings during a federal holiday (Columbus Day), traders bent an ear to speeches by three members of the Fed Open Market Committee.
Investors are looking at Tuesday, when banks begin to report quarterly earnings. JPMorgan Chase & Co. (NYSE: JPM) reports tomorrow; Goldman Sachs Group Inc. (NYSE: GS) reports Wednesday. Bank of America Corp. (NYSE: BAC), Citigroup Inc. (NYSE: C), and Wells Fargo & Co. (NYSE: WFC) also report this week.
The S&P 500 Volatility Index (VIX), the market's fear gauge, dipped 5.3% on the day.
Top Stock Market News Today
Stocks to Watch: FB, AMZN, BUD, SAB, LLY, REGN, AMGN
What Investors Must Know This Week
 Follow us on Twitter: @moneymorning.